NANDI, Fiji, Sept. 21 (Xinhua) -- China and Fiji signed three agreements on economic cooperation here Friday, pledging to boost bilateral ties to a new height.
Visiting China's top legislator Wu Bangguo and Fiji Prime Minister Josaia Voreqe Bainimarama attended the signing ceremony after their one-hour long talks in Nandi, Fiji.
The three agreements include one on economic and technological cooperation, a framework agreement on government-level concessional loan, and an agreement on concessional loan for a road upgrading project.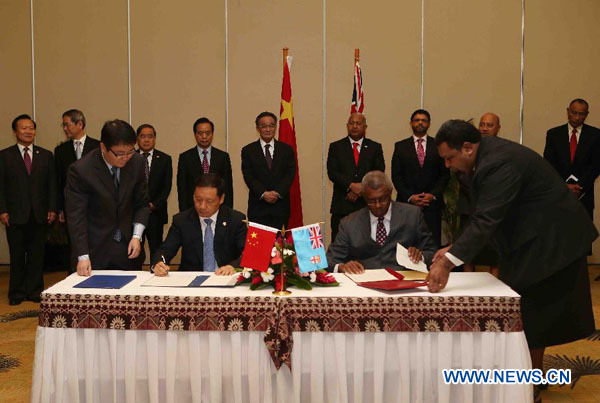 Wu Bangguo (5th L, back), chairman of the Standing Committee of China's National People's Congress, and Fiji's Prime Minister Josaia Voreqe Bainimarama (4th R, back) attend the signing ceremony of bilateral cooperation documents in Nandi, Fiji, Sept. 21, 2012. (Xinhua/Liu Weibing)
Wu, chairman of the Standing Committee of China's National People's Congress (NPC), is on a four-day official goodwill visit to the South Pacific island nation.
The two sides should further deepen pragmatic cooperation and strengthen cooperation on major projects in the fields like infrastructure in a bid to push forward overall trade cooperation between the two countries, said Wu during his talks with Bainimarama.
China encourages its enterprises to come and conduct mutually- beneficial cooperation with Fiji and contribute to the economic and social development in the country, Wu said.
Wu spoke highly of China-Fiji relations, saying China has always regarded Fiji as a good friend and partner in the Pacific island region, and is willing to work with Fiji to lift bilateral ties to a higher level.
"The vigorous development of China-Fiji not only brought about tangible benefits to the two peoples, but also made positive contribution to stability and development in the Asia-Pacific region," Wu said.
Wu suggested the two countries further increase political trust, adding that China appreciates Fiji's adherence to the one-China policy and its support on issues related to China's core interests and major concern.
China supports the Fiji people's rights to choose the development path on their own and will continue to provide aid within its capacity to Fiji, said Wu.
Wu also called for the two countries to carry out people-to- people exchanges and hold close multilateral cooperation.
China will support the Pacific island nations including Fiji for their reasonable appeals on such issues as sustainable development, energy security and ocean resources, said Wu.
Bainimarama reiterated that Fiji firmly sticks to the one-China principle, recognizing Taiwan is an inalienable part of Chinese territory.
On climate change, Wu said Chinese government fully understands the concerns of the island nations like Fiji, hoping the developing nations to keep united, uphold the principle of "common but differentiated responsibilities" and urge the developed countries to fulfill their due obligations.
China will continue to echo and support the reasonable claims by the developing countries including Fiji, and help push for the rich countries to implement their pledged fast-start fund at an early date, said Wu.
Meanwhile, Wu called for the two countries to enhance cooperation on energy-saving and environmental protection and jointly improve the ability deal with and adjust to the climate change.
Echo Wu's remarks, Bainimarama said Fiji will keep communication and coordination China on the climate change.