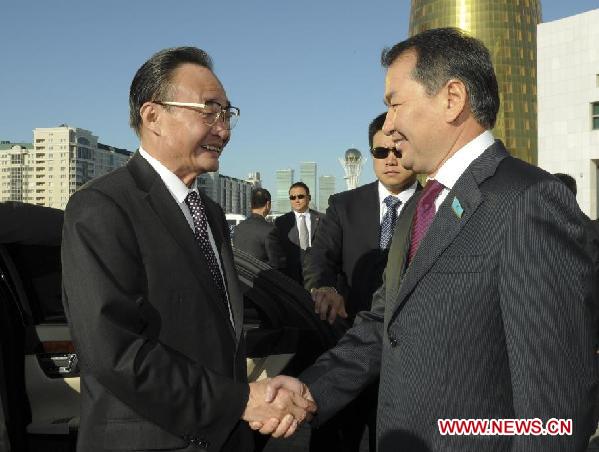 Wu Bangguo (L), chairman of the Standing Committee of China's National People's Congress, meets with Kazakh Senate speaker Kairat Mami in Astana, Kazakhstan, Sept. 26, 2011. (Xinhua/Xie Huanchi)
  ASTANA, Sept. 26 (Xinhua) -- China and Kazakhstan on Monday pledged to step up inter-parliamentary exchanges in a bid to cement their comprehensive strategic partnership and boost pragmatic cooperation in various fields.
  "China's National People's Congress (NPC) hopes to further enhance friendly exchanges with the Kazakh parliament in an effort to make positive contribution to nation-to-nation relationship," said visiting China's top legislator Wu Bangguo.
  In a meeting with Kazakh Senate Speaker Kairat Mami, Wu, chairman of the NPC Standing Committee, called Kazakhstan "an important cooperative partner of China" in the Eurasian region, adding that developing China-Kazakhstan comprehensive strategic partnership is a strategic decision based on the common interests of the two countries.
  As the two countries are set to mark the 20th anniversary of their diplomatic ties and the 10th anniversary of the signing of China-Kazakhstan Good-Neighborly Treaty of Friendship and Cooperation next year, China is ready to make joint efforts with Kazakhstan to enhance political trust, promote common development and bring more benefits to the two peoples, said Wu.
  On inter-parliamentary exchanges, Wu proposed that the two legislative bodies continue to support each other on issues concerning their core interests, learn from each other on state governance and legal supervision.
  He also called for joint efforts to enact relevant laws to facilitate trade, investment and labor services, promote closer cooperation between local authorities, and coordinate within parliamentary organizations to create an outside environment favorable to the smooth development of both countries.
  China appreciates Kazakhstan's support on issues related to Taiwan, Tibet, Xinjiang as well as the "three forces" of separatism, extremism and terrorism, and will, as always, support Kazakhstan to pursue its domestic and foreign policy and continue its development path in line with its national conditions, said Wu.
  Mami, for his part, said Wu's visit marked a new stage of the inter-parliamentary relationship between the two neighboring countries, and expressed the hope that the two sides could take the opportunity to advance friendly exchanges and pragmatic cooperation for closer bilateral ties.
  On Sunday, Wu also met with Oral Muhamedjanov, chairman of the Mazhlis, or the lower house of the Kazakh parliament.
  During the meeting, Wu spoke highly of the China-Kazakhstan relations, saying the two countries have consolidated the political basis by supporting each other on issues concerning their core interests, noting that cooperation had expanded to large projects in such areas as infrastructure and energy, and the two nations had stepped up security efforts by jointly fighting against the "three forces."
  China is ready to work closely with Kazakhstan to enhance mutual trust and deepen mutually beneficial cooperation to lift the comprehensive strategic partnership to a new height, said Wu.
  Muhamedjanov said the parties in the Kazakh parliament attach great importance to the comprehensive strategic cooperation with China, and stay committed to pushing forward cooperation on energy, minerals, technological innovation, non-resources and infrastructure.
  Wu arrived in Almaty for a visit to the Central Asian country after concluding his visit to Russia, Belarus and Uzbekistan. Kazakhstan is the last leg of his four-nation Eurasian tour.