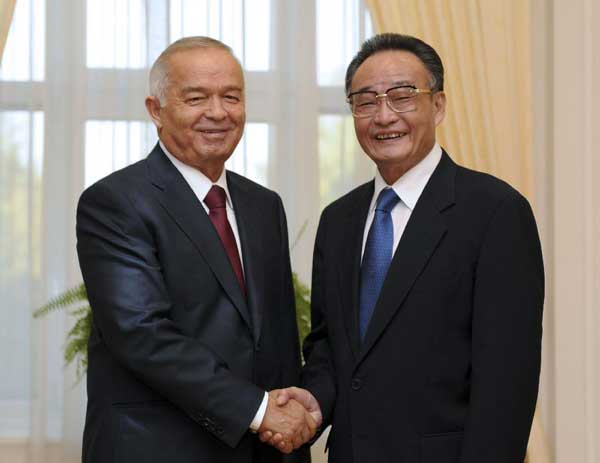 Wu Bangguo (R), chairman of the Standing Committee of China's National People's Congress, meets with Uzbek President Islam Karimov in  Tashkent, Uzbekistan, Sept. 22, 2011. (Xinhua/Xie Huanchi)

       TASHKENT, Sept. 22 (Xinhua) -- China and Uzbekistan on Thursday pledged to further their cooperation in areas like energy and minerals as China's top legislator Wu Bangguo pays an official goodwill visit to the Central Asian country.

  "The two countries should deepen cooperation in such areas like energy and minerals, as well as in non-resource factors like high- tech, telecommunication, transportation, chemicals and tourism, and increase export of natural gas, rare metals and cotton to China," said Wu, chairman of the Standing Committee of China's National People's Congress (NPC).

  During his meeting with Uzbek President Islam Karimov in Tashkent, Wu called on the two countries, with complementary economies and solid cooperative foundation, to launch an inter- governmental cooperation committee at an early date for the sake of strategic planning and coordination of bilateral cooperation.

  China will continue to encourage its enterprises to invest in Uzbekistan and welcome more Uzbekistan enterprises to come to China, said Wu, adding he hopes the two sides will create favorable conditions for mutual investment.

  Karimov appreciated China's firm support and sincere assistance, saying Uzbekistan and China should carry out mutually beneficial cooperation in a wider way, and that Uzbekistan welcomes the Chinese firms to make investment in areas like energy, minerals, infrastructure and high-technology.

  Wu and Karimov also agreed to enhance cooperation on safeguarding regional peace and stability, and vowed to join hands to fight against drug trafficking, organized transnational crimes and "three forces" of separatism, extremism and terrorism.

  Also on Thursday, Wu held talks with Dilorom Toshmuhamedova, speaker of the Legislative Chamber, Uzbek Parliament's lower house.

  China has always treated relationship with Uzbekistan from strategic height and a global perspective, said Wu, adding that as the 20th anniversary of diplomatic relationship draws near, the cooperation between the two countries should "turn on a new page" in the spirit of mutual respect, equality and mutual benefit.

  China will, as always, support Uzbekistan to continue its development path in conformity with its domestic situation, and its government's efforts to safeguard the country's independence, sovereignty, security, stability and economic development, he said.

  Wu hoped the two legislative bodies could boost exchanges to inject vigor into bilateral relationship. Toshmuhamedova, for her part, said that a prosperous China will bring more opportunities to the cooperation among the countries in the region, and that the two parliaments should learn from each other on legislation on developing economy and improving people's livelihood.

  Toshmuhamedova reiterated Uzbekistan's adherence to the One- China policy and pledged to support each other on issues concerning core interest and back China's efforts to fight against the "three forces".

  Wu arrived in Tashkent on Tuesday after concluding his visit to Belarus. He had previously visited Russia and will also visit Kazakhstan during his four-nation Eurasian tour.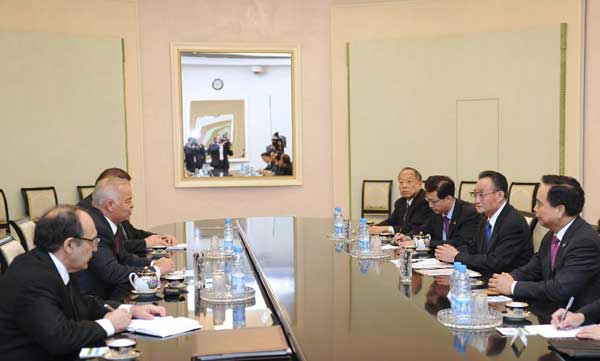 Wu Bangguo (2nd R), chairman of the Standing Committee of China's National People's Congress, meets with Uzbek President Islam Karimov (2nd L) in Tashkent, Uzbekistan, Sept. 22, 2011. (Xinhua/Xie Huanchi)