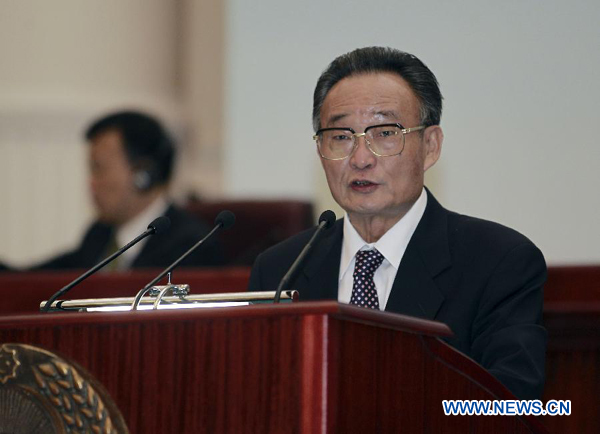 Wu Bangguo, chairman of the Standing Committee of China's National People's Congress, delivers a speech at the Legislative Chamber of the Uzbek Supreme Assembly in Tashkent, Uzbekistan, Sept. 22, 2011. (Xinhua/Ju Peng)
  TASHKENT, Sept. 22 (Xinhua) -- Visiting Chinese top legislator Wu Bangguo on Thursday called on China and countries in Central Asia to consolidate traditional friendship and strengthen pragmatic cooperation.
  Wu, Chairman of the Standing Committee of China's National People's Congress (NPC), made the call in a keynote speech delivered at the legislative assembly of the Supreme Council of Uzbekistan during an official goodwill visit to Uzbekistan.
  Wu spoke highly of China-Uzbekistan cooperation in politics and trade as well as the fight against the "three evil forces" of separatism, extremism and terrorism.
  He said bilateral trade between the two countries reached 2.48 billion U.S. dollars in 2010, up 29.2 percent year-on-year.
  He also said his visit to Uzbekistan, the first as China's top legislator, was aimed at "implementing the important consensus reached by the two heads of state and lifting bilateral ties to a new level."
  Meanwhile, Wu also called on China and Central Asian countries to earnestly carry out consensus reached by the countries' leaders to promote continuous development of relations.
  Wu also made a three-point proposal to further boost the time-honored friendship and practical cooperation between China and Central Asian countries.
  Firstly, political mutual trust needed to be strengthened in an effort to raise the level of strategic cooperation, Wu said.
  He said China and Central Asian countries understood each other's major concerns and firmly supported each other's core interests, which was a unique strategic advantage for their good-neighborly friendship.
  Wu said China and the region should give each other stronger support, at both bilateral and multilateral levels, on major issues concerning each other's sovereignty, territorial integrity, national security, stability and development.
  They also needed to strengthen strategic coordination in international and regional affairs, and maintain active information exchanges on global issues such as global economic governance, climate change, and energy and resources security so as to coordinate their positions and safeguard their common interests, Wu said, adding they should also strive to promote a regional and international environment conducive to peace and development.
  Meanwhile, they also needed to promote people-to-people exchanges and youth exchanges to ensure the friendship between China and Central Asian countries could be handed on from generation to generation, Wu said.
  Secondly, the two sides should forge even closer economic ties based upon the principle of mutual benefits and win-win results, Wu said.
  It was necessary for the two sides to deepen bilateral pragmatic cooperation and promote regional economic integration to achieve common development, Wu said.
  He called on China and the region to seize the opportunity for economic restructuring to give full play to their complementary advantages, saying they should carry out active cooperation in the area of clean energy such as wind and solar power while earnestly implementing existing large-scale cooperation projects and deepening cooperation in oil and gas resources.
  Wu also called on the two sides to further tap their cooperation potential in non-resources fields, such as agriculture, manufacturing, high-tech industries, transportation and finance.
  He added that bilateral cooperation in education, health and tourism should be strengthened, and regional pragmatic cooperation, especially in the border areas, should also be enhanced, and efforts should be made to develop new growth points for economic and technological cooperation and enterprise cooperation.
  All sides needed to make great efforts in promoting regional economic cooperation, and actively implement the Program of Multilateral Trade and Economic Cooperation signed by members of the Shanghai Cooperation Organization (SCO), with an emphasis on the construction of infrastructure networks, including transportation, energy and communication.
  Moreover, Wu stressed the importance of implementing facilitation measures concerning such areas as customs, quality control and transportation, urging all the countries to accelerate the building of regional cooperation mechanisms for energy, financial and food security, and to promote trade and investment liberalization and facilitation to speed up the process of regional economic integration.
  Thirdly, Wu said China and Central Asia needed to improve their abilities to defend themselves against real threats by strengthening security cooperation, saying fighting against the "three evil forces" and safeguarding regional stability was a long-term and arduous task for both China and the region.
  Wu said China and Central Asian countries had already made massive efforts to maintain regional peace and stability and remarkable achievements had been achieved.
  However, he said the security situation in the region had become even more complicated as the "three forces" had become active again and transnational organized crime had become increasingly rampant.
  Therefore, Wu called on all sides to build a more efficient security cooperation mechanism and earnestly implement the Shanghai Convention against Terrorism, Separatism and Extremism as well as bilateral agreements on security cooperation.
  Wu said security dialogues and consultation between should be deepened and joint anti-terrorism exercises held regularly to enhance their quick-reaction capability to effectively combat transnational organized crime, such as drug-trafficking and weapon smuggling and maintain long-term security and stability in the region.
  Wu arrived in Tashkent Tuesday after visiting Belarus and Russia. He will also travel to Kazakhstan during his four-nation Eurasian tour.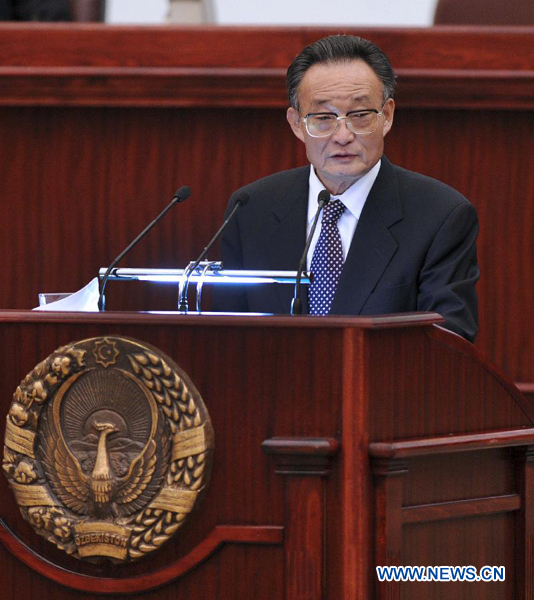 Wu Bangguo, chairman of the Standing Committee of China's National People's Congress, delivers a speech at the Legislative Chamber of the Uzbek Supreme Assembly in Tashkent, Uzbekistan, Sept. 22, 2011. (Xinhua/Xie Huanchi)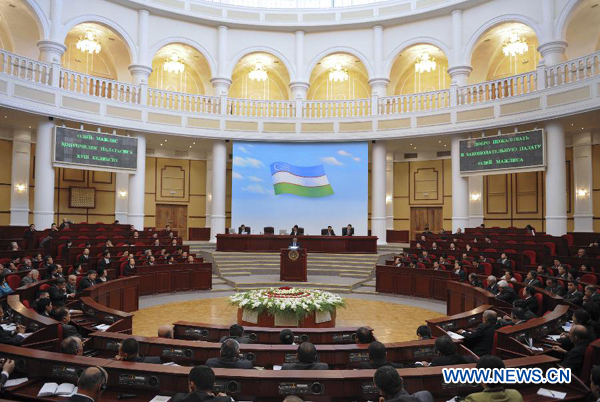 Wu Bangguo (C), chairman of the Standing Committee of China's National People's Congress, delivers a speech at the Legislative Chamber of the Uzbek Supreme Assembly in Tashkent, Uzbekistan, Sept. 22, 2011. (Xinhua/Xie Huanchi)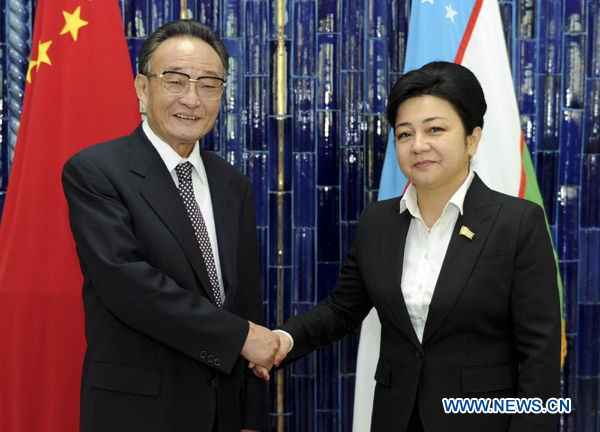 Wu Bangguo (L), chairman of the Standing Committee of China's National People's Congress, shakes hands with Dilorom Toshmuhamedova, Uzbekistan's speaker of the Legislative Chamber of the Supreme Assembly, in Tashkent, Uzbekistan, Sept. 22, 2011. (Xinhua/Xie Huanchi)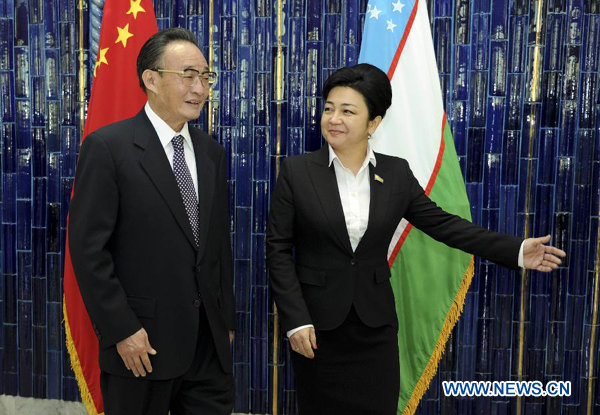 Wu Bangguo (L), chairman of the Standing Committee of China's National People's Congress, is welcomed by Dilorom Toshmuhamedova, Uzbekistan's speaker of the Legislative Chamber of the Supreme Assembly, in Tashkent, Uzbekistan, Sept. 22, 2011. (Xinhua/Xie Huanchi)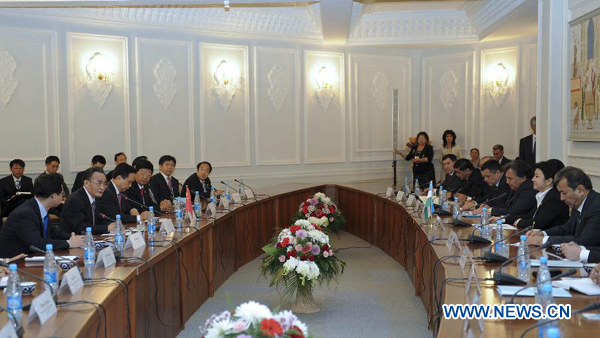 Wu Bangguo (2nd L, Front), chairman of the Standing Committee of China's National People's Congress, holds talks with Dilorom Toshmuhamedova (2nd R), Uzbekistan's speaker of the Legislative Chamber of the Supreme Assembly, in Tashkent, Uzbekistan, Sept. 22, 2011. (Xinhua/Xie Huanchi)