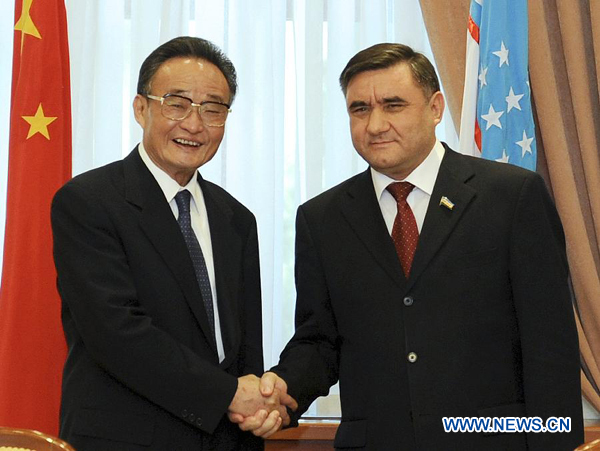 Wu Bangguo (L), chairman of the Standing Committee of China's National People's Congress, shakes hands with Ilgizar Sabirov, president of the Uzbek Senate, in Tashkent, Uzbekistan, Sept. 21, 2011. (Xinhua/Xie Huanchi)
  TASHKENT, Sept. 21 (Xinhua) -- China and Uzbekistan pledged Wednesday to step up their parliamentary exchanges in an effort to advance the bilateral relationship.
  "China's National People's Congress (NPC) is ready to maintain high-level visits and friendly exchanges with the parliament of Uzbekistan and support each other on major issues concerning core interests to contribute to nation-to-nation relations," said visiting Chinese top legislator Wu Bangguo.
  Wu, chairman of the NPC Standing Committee, made the remarks during talks with President of the Uzbek Senate Ilgizar Sabirov here.
  Wu urged the legislatures of the two countries to speed up the approval of agreements to facilitate cooperation on large projects related to energy, minerals and high technology.
  The two sides would benefit from more exchanges of experience on how to promote economic development and secure social harmony, and take more effective legislative measures to improve the investment environment and protect the legal rights of enterprises and people, Wu said.
  He also called on the two sides to enhance coordination within multilateral parliamentary organizations to play their constructive role in helping boost comprehensive cooperation within the framework of the Shanghai Cooperation Organization.
  Wu spoke highly of China-Uzbekistan cooperation in politics and trade as well as the fight against the "three evil forces" of separatism, extremism and terrorism. He said his visit to Uzbekistan, the first as China's top legislator, was aimed at "implementing the important consensus reached by the two heads of state and lifting bilateral ties to a new level."
  Sabirov said Uzbekistan regarded China as a sincere friend and an important cooperative partner, and would further cooperation with China in such areas as politics, and work with China to combat the "three forces" to safeguard regional security.
  After the talks, Wu and Sabirov signed a memorandum of understanding on cooperation between the NPC and the Uzbek Senate, and witnessed the signing ceremony of five agreements on trade and economy.
  Wu arrived in Tashkent on Tuesday after visiting Belarus and Russia. He will also visit Kazakhstan during his four-nation Eurasian tour.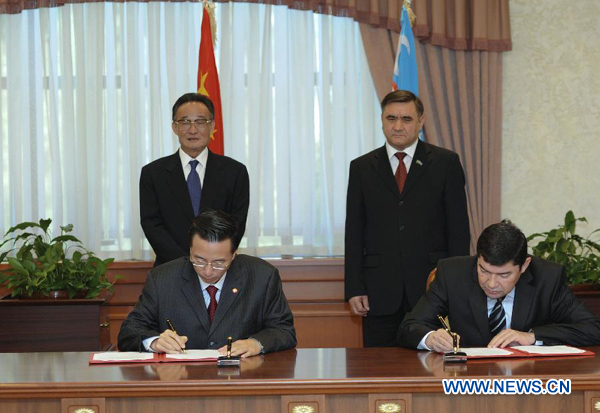 Wu Bangguo (L, back), chairman of the Standing Committee of China's National People's Congress, and Ilgizar Sabirov (R, back), president of the Uzbek Senate, attend the signing ceremony of agreements on economy and trade in Tashkent, Uzbekistan, Sept. 21, 2011. (Xinhua/Xie Huanchi)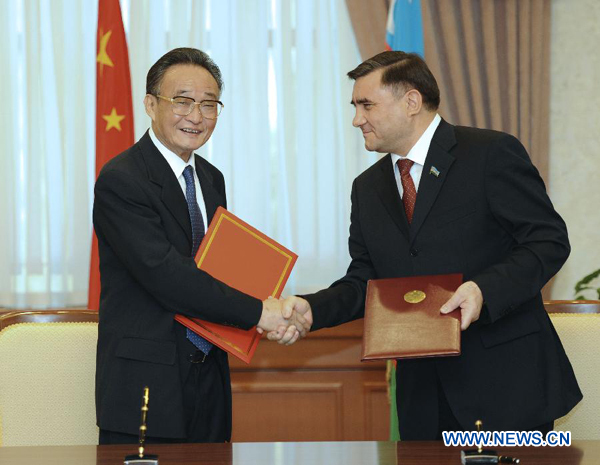 Wu Bangguo (L), chairman of the Standing Committee of China's National People's Congress (NPC), shakes hands with Ilgizar Sabirov, president of the Uzbek Senate, after signing a memorandum of understanding on cooperation between the NPC and the Uzbek Senate in Tashkent, Uzbekistan, Sept. 21, 2011. (Xinhua/Xie Huanchi)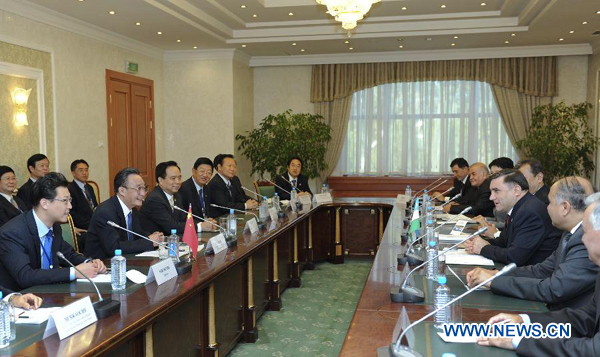 Wu Bangguo (2nd L, front), chairman of the Standing Committee of China's National People's Congress, holds talk with Ilgizar Sabirov (3rd R), president of the Uzbek Senate, in Tashkent, Uzbekistan, Sept. 21, 2011. (Xinhua/Xie Huanchi)