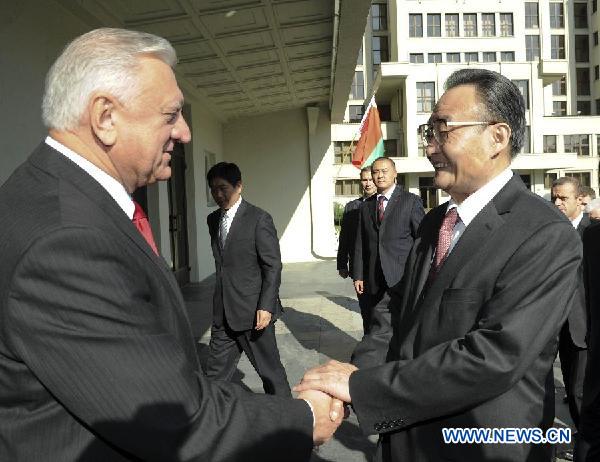 Wu Bangguo (R front), chairman of the Standing Committee of China's National People's Congress (NPC), meets with Belarusian Prime Minister Mikhail Myasnikovich(L front) in Minsk, capital of Belarus, Sept. 18, 2011. (Xinuha/Xie Huanchi)
  MINSK, Sept. 18 (Xinhua) -- The visiting China's top legislator Wu Bangguo said here Sunday that the enterprises of China and Belarus should further enhance mutual investment to facilitate bilateral trade relations.
  Wu, Chairman of the Standing Committee of the National People's Congress (NPC), made the remarks while meeting with Belarusian President Prime Minister Mikhail Myasnikovich in Minsk.
  The two leaders also witnessed the signing ceremony of nine agreements on areas like economic and technical cooperation and establishment of industrial park zones.
  "The Chinese government encourages and supports the enterprises to go out in the foreign investment, actively participate in Belarus's economic and social development and major projects, and also welcomes the Belarusian enterprises to invest in China," said Wu during the meeting.
  Wu said that the pragmatic cooperation between China and Belarus has seen rapid growth in the past years, with bilateral trade volume nearly 20 times more than the early period when the two countries forged diplomatic ties, and the two peoples have drawn benefits from the progress made on such major projects as infrastructure, mechanical manufacture and technological park zones.
  Wu, however, said there is still a huge potential to dig for China-Belarus trade cooperation, and the two sides need careful planning, better investment policy, wider financing channel and more direct investment.
  The two countries enjoy the advantage of complementing each other on fund, technology and market, and at the same time should expand cooperation on technological innovation to explore market drive for new growth of bilateral cooperation, he said.
  Myasnikovich, for his part, said Belarus hoped to learn from China about its economic development zones, work with China to tap cooperative potentials on areas like mechanical manufacture, mineral resources, infrastructure, aviation, aerospace and technology, and promote upgrading from trade to investment cooperation between the two countries.
  Belarus welcomes more investment from the Chinese enterprises and is ready to create favorable conditions in this regard, said Myasnikovich.
  Also on Sunday, Wu attended the inauguration ceremony of a Confucius Institute in the State Linguistic University in Minsk.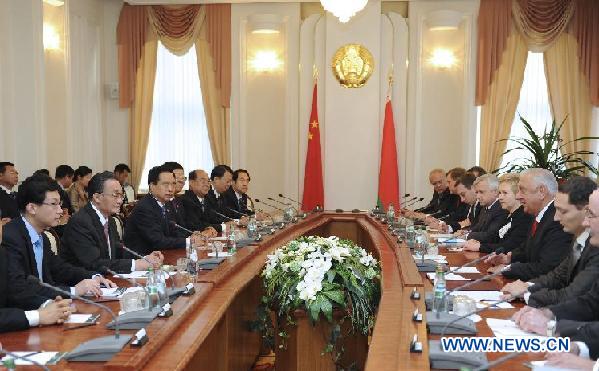 Wu Bangguo(2nd L), chairman of the Standing Committee of China's National People's Congress (NPC), meets with Belarusian Prime Minister Mikhail Myasnikovich(3rd R) in Minsk, capital of Belarus, Sept. 18, 2011. (Xinuha/Xie Huanchi)