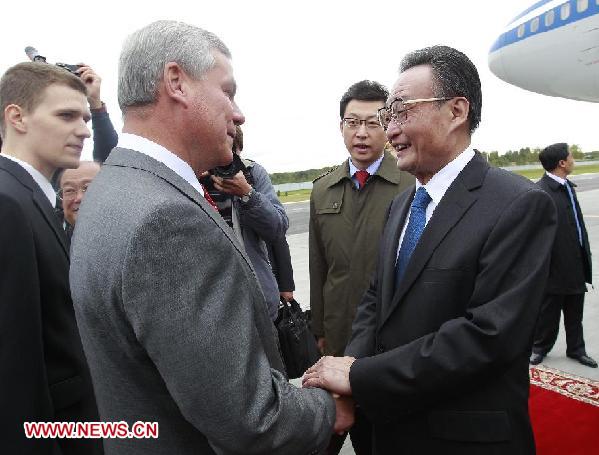 Wu Bangguo (R Front), chairman of the Standing Committee of the National People's Congress of China, shakes hands with Belarusian lower house leader Vladimir Andreichenko upon his arrival in Minsk, Belarus, Sept. 17, 2011. (Xinhua/Ju Peng)
  MINSK, Sept. 17 (Xinhua) -- China's top legislator Wu Bangguo arrived in Minsk on Saturday for an official goodwill visit to Belarus.
  Wu, chairman of the Standing Committee of China's National People's Congress (NPC), is expected to meet with Belarussian President Alexander Lukashenko and Prime Minister Mikhail Myasnikovich, and hold talks with Belarussian Parliament's lower chamber chairman Vladimir Andreichenko and upper house (Council of the Republic) Chairman Anatoly Rubinov.
  "During a visit to China by President Lukashenko in 2005, he and Chinese President Hu Jintao announced that bilateral ties had entered a new stage of comprehensive development and strategic cooperation. We are confident of the future progress of the China-Belarus relationship," said Wu in a written speech upon his arrival.
  Wu said China appreciates Belarus' support for it on issues concerning Taiwan, Tibet, Xinjiang and human rights, adding that China will, as always, support Belarus to continue on its self-chosen development path and pursue domestic and foreign policy in conformity with its domestic conditions.
  China will also support the Belarussian government's efforts to safeguard the country's sovereignty, social stability and economic development, said Wu.
  Wu arrived here after concluding his visit to Russia. He will also travel to Uzbekistan and Kazakhstan during his four-nation Eurasian tour.