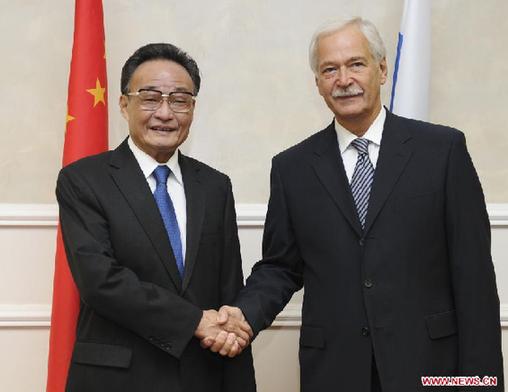 Wu Bangguo (L), chairman of the Standing Committee of the National People's Congress of China, shakes hands with Boris Gryzlov, chairman of the State Duma of Russia, in Moscow, Russia, Sept. 15, 2011. Wu Bangguo Held talks with Boris Gryzlov here on Thursday. (Xinhua/Xie Huanchi)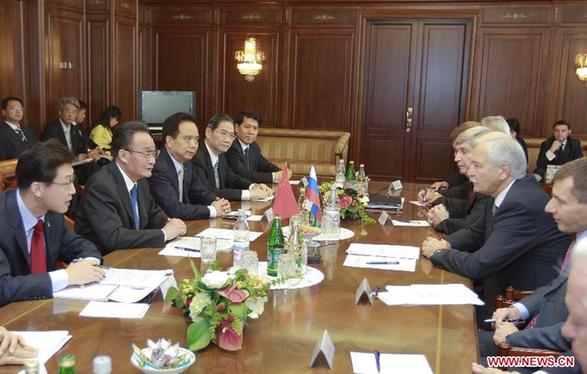 Wu Bangguo (2nd L, front), chairman of the Standing Committee of the National People's Congress of China, holds talks with Boris Gryzlov, chairman of the State Duma of Russia, in Moscow, Russia, Sept. 15, 2011. (Xinhua/Ju Peng)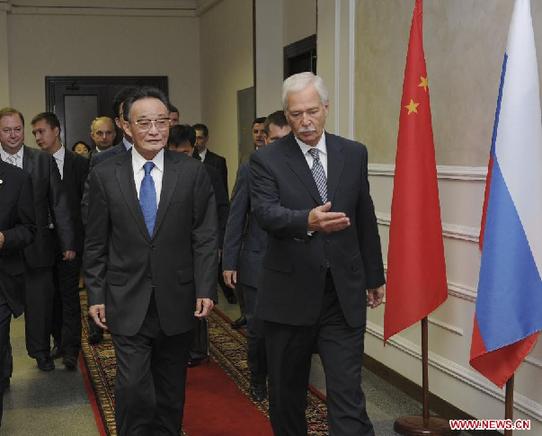 Wu Bangguo (L, Front), chairman of the Standing Committee of the National People's Congress (NPC) of China, and Boris Gryzlov, chairman of the State Duma of Russia, arrive for the fifth meeting of the cooperation committee of the NPC and the State Duma in Moscow, Russia, Sept. 15, 2011. (Xinhua/Xie Huanchi)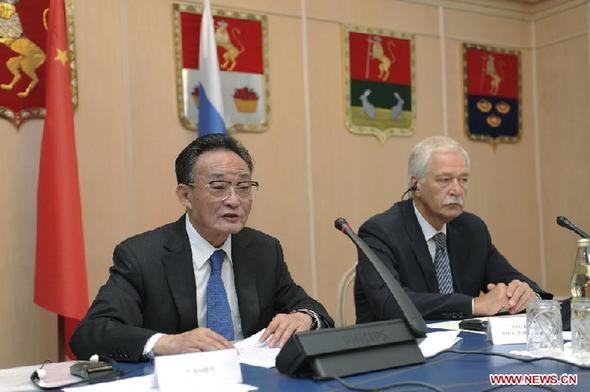 Wu Bangguo (L), chairman of the Standing Committee of the National People's Congress (NPC) of China, and Boris Gryzlov, chairman of the State Duma of Russia, co-chair the fifth meeting of the cooperation committee of the NPC and the State Duma in Moscow, Russia, Sept. 15, 2011. (Xinhua/Xie Huanchi)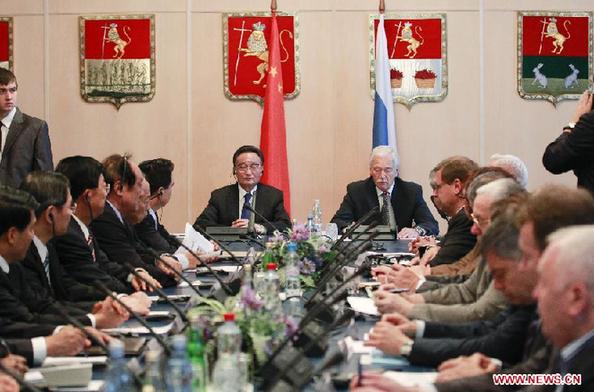 Wu Bangguo (L, back), chairman of the Standing Committee of the National People's Congress (NPC) of China, and Boris Gryzlov (R, back), chairman of the State Duma of Russia, co-chair the fifth meeting of the cooperation committee of the NPC and the State Duma in Moscow, Russia, Sept. 15, 2011. (Xinhua/Ju Peng)
MOSCOW, Sept. 15 (Xinhua) -- Chinese and Russian parliamentary leaders agreed here Thursday to step up legislative cooperation and enhance the comprehensive development of bilateral ties.
The consensus was reached during talks between Wu Bangguo, chairman of the Standing Committee of the National People's Congress (NPC), and Boris Gryzlov, chairman of the State Duma, the lower chamber of the Russian parliament.
The two also co-chaired the fifth meeting of the cooperation committee of the NPC and the State Duma.
"By using the regular exchange mechanism, the Chinese and Russian parliaments have conducted friendly exchanges and pragmatic cooperation in various fields and accumulated much valuable experience," Wu said.
In order to further boost bilateral friendship and cooperation, Wu said, the two sides should continue supporting each other to develop along the path each of their governments has selected.
The two legislatures should also urge relevant government departments to launch major cooperative projects at an early date and approve necessary pacts and agreements that will create a sound legal environment for pragmatic cooperation between the two countries, he said.
He also said the two legislative bodies should carry out in-depth discussions on democracy, legal systems and state governance.
Wu also suggested the two sides enhance parliamentary exchanges at different levels and help pass on the torch of friendship to the coming generations.
Recalling the "dramatic development" of China-Russia ties, Wu said the two countries had resolved border problems once and for all and supported each other on issues concerning their core interests.
The two countries had also seen all-round and high-level cooperation in such areas as trade, energy and technology, he said.
They had also maintained close communication and coordination within the framework of the United Nations and the Group of 20 major economies, and jointly tackled global issues such as climate change, energy and food security, he said.
"It is the strategic choice of the Chinese government and people to unswervingly develop the China-Russia relationship," the top Chinese legislator said.
During Chinese President Hu Jintao's visit to Russia in June, the two countries made a blueprint for developing the relationship of the two countries in the next decade, pledging to build a comprehensive strategic partnership of cooperation featuring equality, mutual trust, mutual support, common prosperity and lasting friendship, Wu said.
"My visit is just to materialize the consensus reached by the two heads of state and keep pushing forward the bilateral relationship," he said.
Gryzlov spoke highly of the regular bilateral parliamentary exchange mechanism, saying the Russian government, parliament and people attached great importance to the relationship with China, and were ready to work with the Chinese side to lift bilateral ties to a new level.
Wu arrived in Moscow on Wednesday, kicking off a four-nation Eurasian tour that will also take him to Belarus, Uzbekistan and Kazakhstan.