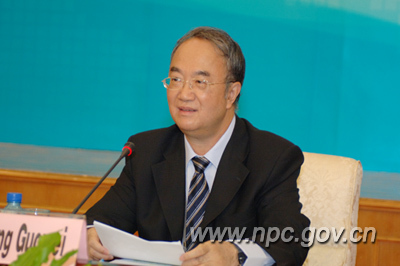 The 5th Asian-Europe Parliamentary Partnership Meeting (ASEP) closes on Friday, June 20, 2008 in Beijing. Sang Guowei, Vice chairman of the Standing Committee of the National People's Congress(NPC), presides over the closing meeting. (Photo by Wang Xinqing)
Delegates to the fifth Asia-Europe Parliamentary Partnership Meeting (ASEP), which concluded here on Friday, noted global economic problems and agreed on tackling them through further cooperation.
"In the process of globalization, Asian and European countries, particularly developing ones, are still facing many difficulties," said Mohamad Oemar, Minister of the Indonesian Embassy in China.
The delegates were concerned about rising global food prices, the impact on the life of the poor, and global poverty-reduction objectives.
Mohamad Oemar said the increase in food prices, particularly rice, is a global issue, which requires concerted efforts from countries in Asia and Europe, not just depending on the market mechanism and global financial and trading system.
In a declaration of the fifth ASEP issued on Friday, ASEP parliamentarians recommended that their countries, developed ones in particular, take measures to increase aid in the short term, promote sustainable development of agricultural production and improve agricultural productivity to raise food self-sufficiency and ensure food security.
The parliamentarians also noted the increasing importance of energy security and sustainable development and the need for international cooperation in this sector.
British Member of Parliament John Whittingdale said the energy issue is also "a challenge for all of us; it affects every one of us equally."
Jose Ramon Beloki Guerra from the Spanish Parliament agreed, saying the energy crisis has affected the world.
"Countries all over the world are facing the issue of sustainable development; therefore, to establish a sustainable development mechanism is a task for them all," he said.
The delegates were concerned about the slow progress in multilateral trade negotiations, fluctuating international financial markets, and the constraints of climate change.
They undertook to ask their governments to advance the Doha Round of negotiations to a comprehensive, balanced and early conclusion, preferably within this year.
They called on Asia Europe Meeting (ASEM) partners to increase dialogue and cooperation on financial policies to jointly safeguard the stability of the regional financial market.
They called on ASEM members to observe the United Nations Framework Convention on Climate Change and make efforts to enable full, efficient and sustained implementation of the convention through long-term cooperation.
They noted that one possible adverse effect of climate change can be an increased occurrence of natural disasters; therefore, they agreed on the need for all countries to increase efforts in disaster preparedness and expressed support for further improving national disaster preparedness schemes.
They also urged developed countries to fulfill, as soon as possible, their commitment of increasing their Official Development Assistance (ODA) to 0.7 percent of their Gross National Income (GNI) for poverty-reduction and development endeavors of developing countries.
ASEP, initiated in 1996 and held every two years, alternating between Asia and Europe, is aimed at enhancing mutual understanding between Asia and Europe through increased dialogue among parliaments.