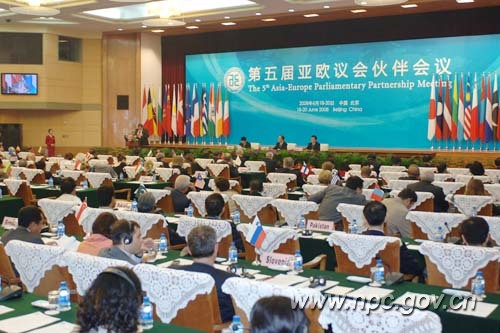 The 5th Asian-Europe Parliamentary Partnership Meeting (ASEP) closes on Friday, June 20, 2008 in Beijing. (Photo by Wang Xinqing)
Asian and European parliamentarians on Friday called on partners of the Asia-Europe Parliamentary Partnership Meeting (ASEP) to promote dialogue and cooperation in a bid to raise the influence of the bloc and benefit the people on the two continents.
Vu Viet Ngoan, vice-chairman of the Economic Committee of Vietnamese National Assembly, said: "I think it is very important for both continents to promote parliamentary cooperation to further promote trade and investment. Members of ASEP should play their role actively to push forward trade and investment between the two continents."
Anton Kokalj, Chairman of EU Affairs Committee of Slovenia's National Assembly, said at the meeting: "I think parliamentary cooperation is very important because parliamentarians can cooperate and speak and think wider than just governments and other institutions."
Before closing the ASEP Meeting on Friday, parliamentarians issued a declaration expressing their commitment to peace, stability and prosperity in Asia and Europe.
In the declaration, they shared the view that the second decade for ASEM (Asia-Europe Meeting) is an important period to deepen the ASEM process, and called on ASEM partners to further enhance dialogue and cooperation in political, economic, social and cultural areas, to enable people in Asia and Europe to benefit more from such cooperation.
ASEP parliamentarians also supported measures taken by ASEM partners to raise the profile and influence of ASEM and win broader public recognition and support.
They stressed the need for closer links between ASEP and ASEM, and reiterated their readiness to contribute to the advancement of the ASEM process.
The ASEP meeting started Thursday morning and concluded on Friday. More than 100 parliamentarians from Asia and Europe participated in the meeting.