The current international financial crisis will not affect China's cooperation with Seychelles, visiting Chinese top legislator Wu Bangguo said here on Thursday.
Wu, chairman of the Standing Committee of China's National People's Congress (NPC), made the remarks in his meeting with Seychellois President James Alix Michel.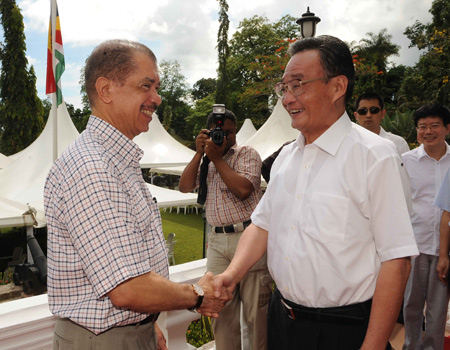 Seychellois President James Alix Michel (1st L) meets with Wu Bangguo (R Front), chairman of the Standing Committee of the National People's Congress, China's top legislature, in Victoria, Nov. 13, 2008. (Xinhua/Gao Jie)

Wu said that China's economy will maintain its momentum of growth.
"The crisis will not affected the contracted projects between the two sides as well as prospect of their future cooperation due to the strong growth of China's economy," Wu said.
Wu also briefed the Seychellois president on policies that the Chinese government has adopted to deal with the crisis, promising that China will continue to offer its help to Seychelles according to its own capability.
China is willing to deepen all-round cooperation and hopes to enhance inter-parliamentary exchanges with Seychelles, Wu said, calling the bilateral relationship "a living example" for big and small nations to handle their relations.
"The relations between China and Seychelles can be regarded as an living model for big and small nations," Wu said, adding that China is ready to bring forward the friendly cooperation with Seychelles on the basis of mutual respect and reciprocity.
The Seychellois president expressed his appreciation to China, noting his country could not achieve the economic development alone without China's long-term assistance.
Seychelles hopes to further boost its cooperation with China especially in such fields as infrastructure, energy, agriculture, telecommunication and tourism, the Seychellois President noted.
The president also reiterated his country's adherence to the one-China policy.
Wu arrived here after he concluded his official visit to Madagascar. Seychelles is the final leg of his five-nation African tour which has already taken him to Algeria, Gabon, Ethiopia and Madagascar.