Chinese top legislator Wu Bangguo hailed here on Thursday the growth of China-Seychelles ties, calling on the two parliaments to contribute efforts to boost cooperation.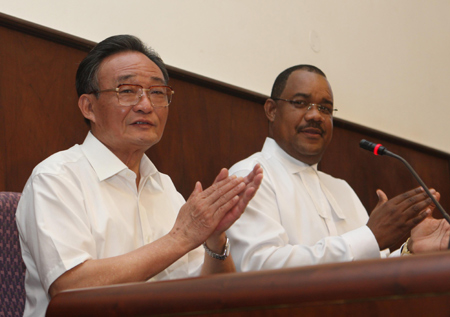 Patrick Herminie (R), speaker of the National Assembly of Seychelles, and Wu Bangguo, chairman of the Standing Committee of the National People's Congress, China's top legislature, applaud at the National Assembly of Seychelles in Victoria, Nov. 13, 2008. Wu Bangguo made a speech at the National Assembly of Seychelles on Nov. 13. (Xinhua/Liu Weibing)
Wu, chairman of the Standing Committee of China's National People's Congress (NPC), made the remarks in his meeting with Speaker of the Seychellois National Assembly Patrick Herminie.
He said the current bilateral ties are in their best ever time and China would make joint efforts to expand cooperation and step up the bilateral relations.
Wu also highlighted the inter-parliamentary cooperation as an important component of the bilateral relations, adding that the growth of the ties among parliaments will help consolidate the social basis of the development of bilateral relations.
"The NPC is committed to cementing the cooperation with the Seychellois National Assembly so as to increase the mutual understanding as well as the friendship between the two peoples," Wu told Herminie.
Agreeing with Wu's views on the bilateral relations and inter-parliamentary cooperation, Herminie expressed his appreciation to the achievement that China has made during its opening-up process and gratitude to the assistance that Chinese has offered to help the country to promote economic and social development.
The Seychellois National Assembly eyes on establishing a comprehensive and all-dimensional cooperation with China to push forward the relations between the two nations, Herminie said.
Wu arrived here after he concluded his official visit to Madagascar. Seychelles is the final leg of his five-nation Africa tour which has already taken him to Algeria, Gabon, Ethiopia and Madagascar.