Madagascan Prime Minister Charles Rabemananjara(L) meets with Wu Bangguo, chairman of the Standing Committee of China's National People's Congress(NPC), the country's top legislature, in Antananarivo, capital of Madagascar, Nov. 11, 2008. (Xinhua Photo/Liu Weibing)
Visiting Chinese top legislator Wu Bangguo met here Tuesday with Madagascan Prime Minister Charles Rabemananjara. The two sides exchanged views on bilateral trade ties and reached important consensuses.
Wu, chairman of the Standing Committee of the National People's Congress (NPC), said China's top legislature has attached great importance to development of the political ties between the two countries, and that the substantial cooperation is of key concerns for both sides.
China will expand the cooperation with Madagascar in fields like energy, mining, hydropower, agriculture and human resource, and encourage the Chinese companies to establish projects with their Madagascar counterparts, Wu said.
"China will adopt open policies on technology transfer, use local labors and strengthen the training program for the Madagascan personnel in an effort to promote the local economic and social development," the top legislator told Rabemananjara.
Agreeing with Wu's views on the bilateral cooperation, Rabemananjara, who is also Madagascar 's Chief of Government and Minister of Interior, expressed his profound gratitude and trust to the Chinese people for the assistance they provided when the country suffered economic difficulties.
The prime minister said that the Madagascan government would create favorable conditions to attract Chinese companies to establish businesses and further invest in the country.
The prime minister proposed to strengthen cooperation with China in fields of agriculture, renewed energy, infrastructure, public health and tourism.
At the invitation of President of Madagascar's National Assembly Jacques Sylla and Senate President Yvan Randriasandratriniony, Wu arrived here on Monday for a two-day official visit, the fourth leg of his five-nation African tour.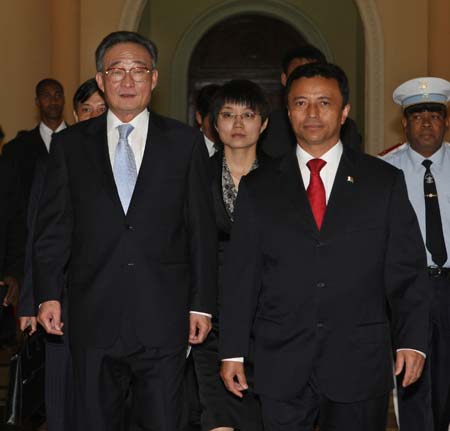 Madagascan President Marc Ravalomanana(R) meets with Wu Bangguo, chairman of the Standing Committee of China's National People's Congress(NPC), the country's top legislature, in Antananarivo, capital of Madagascar, Nov. 11, 2008. (Xinhua Photo/Liu Weibing)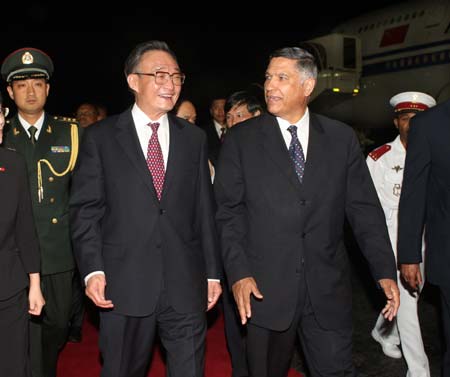 Wu Bangguo (2nd L), chairman of the Standing Committee of China's National People's Congress(NPC), the country's top legislature, talks with President of National Assembly of Madagascar Jacques Sylla (R) upon his arrival in Antananarivo, capital of Madagascar, Nov. 11, 2008.(Xinhua Photo/Liu Weibing)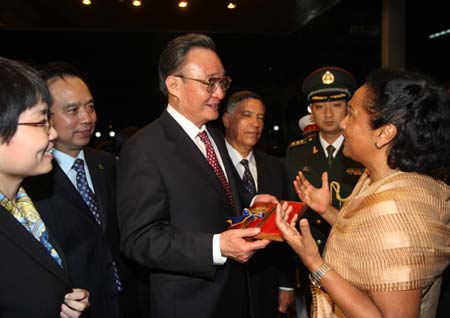 Wu Bangguo (C), chairman of the Standing Committee of China's National People's Congress(NPC), the country's top legislature, is greeted upon his arrival in Antananarivo, capital of Madagascar, Nov. 11, 2008. (Xinhua Photo/Liu Weibing)