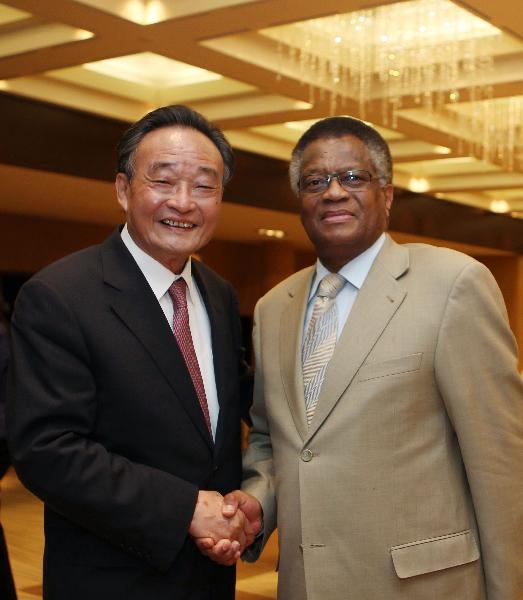 Wu Bangguo (L), chairman of the Standing Committee of China's National People's Congress (NPC), meets with Max Sisulu, speaker of the National Assembly of South Africa, in Geneva, Switzerland, July 20, 2010. (Xinhua/Ju Peng)
  GENEVA, July 20 (Xinhua) -- Top Chinese legislator Wu Bangguo held separate talks here Tuesday with parliamentary leaders from South Africa, the Democratic People's Republic of Korea (DPRK) and Kazakhstan and the chief of the World Health Organization (WHO).
  During talks with Hon Max Vuyisile Sisulu, speaker of South Africa's National Assembly, Wu, chairman of the Standing Committee of the National People's Congress (NPC) of China, said that the peoples of China and South Africa share a deep, traditional friendship.
  Wu said the two countries have seen their ties develop in a rapid and all-round way since the establishment of diplomatic relations.
  The two nations have carried out frequent high-level exchanges, with their mutual political trust gradually building up, Wu said.
  Wu added that the two countries have also shared understanding and support on issues concerning each other's core interests and maintained close coordination and cooperation on significant international affairs.
  Noting that economic and trade cooperation continues to expand and that people-to-people exchanges are also gaining momentum, Wu stressed that all those efforts have brought visible and practical benefits to the two countries and their people.
  China attaches great importance to promoting its relationship with South Africa, and at a time when the international situation is undergoing deep and complex changes, relations between the two big developing countries have transcended the bilateral category and gained increasing global and strategic significance, Wu said.
  Expressing hope that the two sides can join hands in enhancing their strategic partnership, Wu emphasized that the NPC is ready to consolidate friendly cooperation with South Africa's National Assembly and deepen their coordination and cooperation in international and regional parliamentary organizations.
  The two legislatures should also work together with their counterparts in other developing countries to call for more attention on development and express their resolve to realize the UN Millennium Development Goals (MDGs), Wu said.
  For his part, Sisulu said that China is an very important nation on the international stage and an important cooperation partner of South Africa.
  South Africa's government, parliament and political parties are committed to promoting ties with China, and are hoping for more friendly exchanges and cooperation with China in more areas, he stressed.
  Sisulu said that a closer relationship with China will benefit South Africa's economic development and enable his country to better cooperate with China in handling global challenges and defending the interests of developing countries.