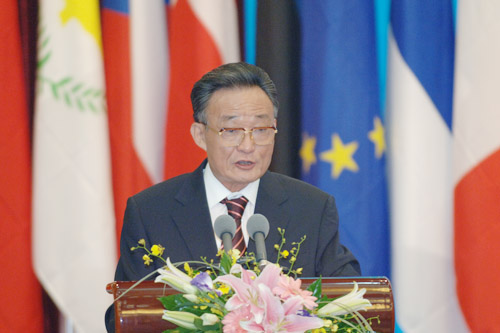 Wu Bangguo, chairman of the Standing Committee of the National People's Congress of China, makes a speech at the opening ceremony of the fifth Asia-Europe Parliamentary Partnership Meeting (ASEP) on June 19, 2008, in Beijing. (Photo by Wang Xinqing)
China's 30 years of reform and opening up have equipped China to effectively cope with the deadly mega-quake in southwest China's Sichuan province on May 12, China's top legislator Wu Bangguo said during his opening speech at the fifth Asia-Europe Parliamentary Partnership Meeting (ASEP) here on Thursday.
"During the past 30 years, China has been focusing on growing the economy and development as the Party's top priority. This has brought historic changes to China," he said.
From 1978 to 2007, China's GDP has grown by 9.6 percent annually from 216.5 billion U.S. dollars to 3,230 billion dollars, contributing substantially to China's enhanced overall national strength, the chairman of the Standing Committee of the Chinese National People's Congress (NPC) said.
In the same period, China's per capita GDP has increased more than eight-fold from 226 dollars to 2100 dollars, resulting in significantly higher living standards. Fiscal revenue has also grown over 44-fold from 113.2 billion yuan to 5130 billion yuan, greatly swelling the nation's coffers, Wu added.
"Thanks to 30 years of development and enrichment, China has been able to respond effectively to the recent devastating earthquake in Sichuan," he said. By June 17, the central government and local governments had allocated over 53.9 billion yuan for the rescue and relief efforts. More than 1.4 million tents and over 360,000 prefabricated houses had been sent to the quake-hit areas. More than 4.8 million cotton-padded quilts and over 14 million items of clothes had been sent to the quake zones, together with large amounts of grain, food and medicine to meet the needs of the relief efforts and the affected populations, Wu introduced in details.
Following the killer quake, the NPC Standing Committee has decided to promptly adjust the national budget for 2008 and establish a rehabilitation and reconstruction fund to meet the financial needs of relief and reconstruction operations, the NPC chairman said.