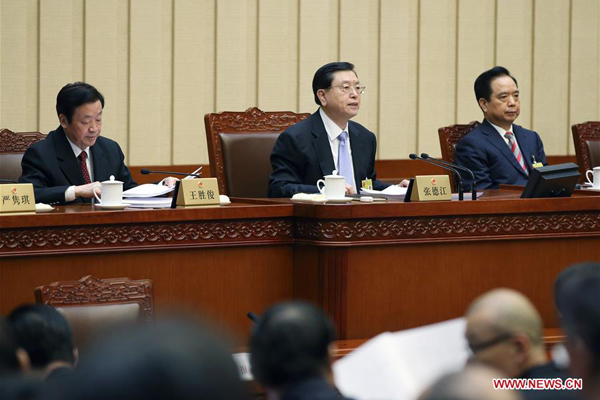 BEIJING, Feb. 24, 2016 (Xinhua) -- Zhang Dejiang (C), chairman of the Standing Committee of the National People's Congress (NPC), presides over the opening meeting of the bimonthly session of the NPC Standing Committee in Beijing, capital of China, Feb. 24, 2016. (Xinhua/Yao Dawei)
BEIJING, Feb. 24 (Xinhua) -- The Standing Committee of China's National People's Congress (NPC) convened its bimonthly session Wednesday, deliberating legislation on deep sea exploration and the agenda for the fourth annual session of the 12th NPC.
Zhang Dejiang, chairman of the NPC Standing Committee, presided over the opening meeting.
The draft law on deep seafloor resource exploration, submitted for a second reading, stresses that the activity should feature the principles of peaceful use and cooperation.
The draft reads exploration and development should protect the maritime environment and safeguard the common interests of mankind.
China is a signatory to the United Nations Convention on the Law of the Sea, which states that international seabeds and their resources are the common property of mankind.
According to the draft, the nation will protect the rightful interests of Chinese citizens and organizations in their exploration of deep seafloor resources and deep sea surveys. A report presented by the NPC law committee said legislation is necessary to ensure sustainable exploitation.
Also deliberated were a work report by the NPC Standing Committee and a State Council report following the inspection of vocational education, delivered by Minister of Education Yuan Guiren.
According to Yuan, China's vocational education has received increased government support following a survey by the top legislature last year that exposed weaknesses in the system.
By December, all provincial governments in China had set a budgeted amount of spending for each student at vocational colleges and allocated the money to colleges accordingly, Yuan said.
To prepare for the NPC annual session next month, legislators also deliberated draft lists of the presidium and general secretary for the annual session as well as those who will sit as observers.
In addition, legislators reviewed the qualifications of several NPC deputies as well as appointments and dismissals during Wednesday's meeting.
The Fourth Session of the 12th NPC will begin in Beijing on March 5.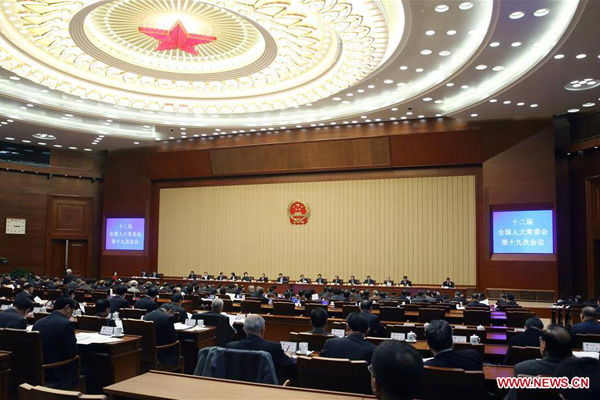 BEIJING, Feb. 24, 2016 (Xinhua) -- Photo taken on Feb. 24, 2016 shows the scene of the bimonthly session of the Standing Committee of the National People's Congress (NPC) of China, in Beijing, capital of China. Zhang Dejiang, president of the NPC Standing Committee, presides over the opening meeting of the bimonthly session. (Xinhua/Yao Dawei)
  来源: xinhua 2016-02-24
责任编辑: tracyliu