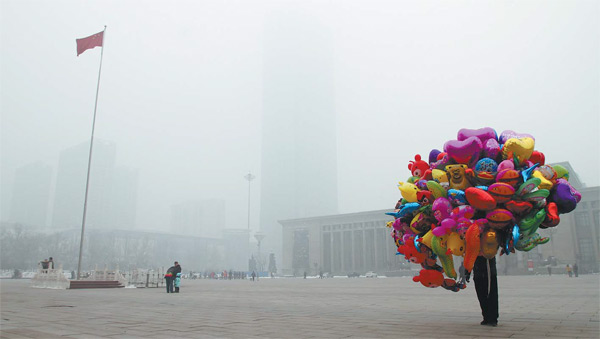 The desire for economic development has resulted in severe air pollution in Shijiazhuang, capital of Hebei province, which also affects nearby cities such as Beijing and Tianjin. CUI HUARUI / FOR CHINA DAILY
United effort by Beijing and surrounding cities needed to fight pollution, report Jiang Xueqing in Shijiazhuang, Hebei province, and Wu Wencong in Beijing.
Before a heavy rainstorm cleared the skies above Beijing on Sunday and delighted people with a rainbow, the city had been shrouded in smog for a week.
Of the 23 air monitoring stations in the city, 14 detected heavily polluted air in the areas surrounding the capital on Saturday, while seven other areas were deemed to be moderately polluted. The monitors also identified PM2.5 - particles up to 2.5 microns in diameter and able to enter the lungs and blood stream - as the primary pollutant.
Studies by a number of academic institutions have found that on average about 25 percent of PM2.5 in Beijing comes from nearby cities. That means regional collaboration to control air pollution is crucially important, said Zhuang Zhidong, deputy director of the Beijing Environmental Protection Bureau.
"Beijing, Tianjin and Hebei province will eventually conduct joint regional prevention and control of air pollution. Currently, they are still performing basic research within the region to identify mutual influences in the three areas," said Bao Jingling, chief engineer of the Tianjin Environmental Protection Bureau.
He said officials in Hebei province and Beijing have signed an agreement on joint pollution control - including measures such as mutual industrial development - and Beijing and Tianjin will soon sign a similar treaty.
Economic differences
Compared with some other regions such as the Yangtze River Delta, where the economies of Shanghai and the provinces of Zhejiang and Jiangsu are comparable in size, collaborative efforts between Beijing, Tianjin and Hebei province to control air pollution have been made much more difficult by the huge differences in economic performance, said Zhuang during a media event called A Century of Action for Environmental Journalism in China.
In 2012, the service sector accounted for 76.4 percent of Beijing's gross domestic product of 1.78 trillion yuan ($290 billion). However, in Hebei province, the service sector accounted for just 35.3 percent of GDP of 2.66 trillion yuan, while the industrial sector, including iron and steel, coal, construction materials and petrochemicals, contributed 52.7 percent.
"Different areas are at different stages of development and have different priorities. Because they are not on the same page, it's very difficult to carry out joint regional prevention and control of air pollution," said Ma Jun, director of the Institute of Public and Environmental Affairs.
During the process of economic development, Beijing enjoyed a number of advantages that allowed the city to discover low-carbon development paths, such as financial services and the cultural and creative industries. Tianjin and Hebei, which did not have the same advantages but still wanted to keep up with Beijing, elected to grow through energy-intensive industries instead.
To gain a mutual understanding of air pollution, the governments of the three areas must share basic information such as emission levels from the major pollution sources and their compliance with national emission standards every year, said Ma.
The Institute of Public and Environmental Affairs and several nonprofit organizations have pushed for the disclosure of real-time monitoring data of pollution sources by the governments of Beijing, Tianjin and Hebei.
"Considering that the three areas are different in terms of their developmental stages, per capita GDP and living standards, they should help each other when working towards the same goal, that of fighting air pollution, by sharing ideas, technology and funds," said Chai Fahe, vice-president of the Chinese Research Academy of Environmental Sciences.
"The current difficulties lie in identifying the responsibilities of each municipality and province to provide a fair base for joint control," he said.
Three State-level meetings have been held to discuss the national air pollution action plan, according to Bao. Consensus has been reached on the measures to take, such as intensifying efforts to control fine particulate matter, greater restrictions on the use of coal, and encouraging increased use of clean energy sources. But questions remain about how consumption should be divided among all the provinces and the target levels for the reduction of emissions in each area.
Although the Beijing municipal government decided to cut the city's coal consumption from 23.3 million tons in 2012 to 15 million tons in 2015, it cannot force other cities and provinces to sacrifice their own economic growth to promote cleaner air in the surrounding areas.
The desire for growth and development has prompted a rapid increase in coal consumption in the areas surrounding Beijing; in 2012, Tianjin burned more than 50 million tons of coal, while Hebei province burned more than 280 million tons.
"Fundamental changes will not occur if Beijing is the only one to cut coal consumption," said Zhuang.
To prevent regional collaboration from existing in name only, officials in Beijing have appealed to the State Council to lead the collaborative efforts.
Recently, a State Council deputy secretary led a number of relevant government departments - including the Ministry of Environmental Protection, the Ministry of Finance, the National Development and Reform Commission and the Ministry of Transport - in enacting policies for regional collaboration. The official also asked the mayors of Beijing and Tianjin and the governors of Hebei and Shanxi provinces for their thoughts on the problem, according to Zhuang.
Yang Guozhan, deputy secretary-general of Hebei's provincial government, also suggested that a comprehensive central government department should lead the coordination of regional collaboration and formulate specific measures based on the different situations in cities and provinces.
"The choice between economic development and environmental improvement is a dilemma, but we have to strike a balance between the two and resolve to change our economic structure, which relies on excessive consumption of resources and a high level of emissions," said Yang.
He said he hoped the central government would support Hebei, while optimizing the structures of emerging and major industries.
Hard times for Hebei
Hebei is having a hard time adjusting its economic structure. Iron and steel are the largest industries in the province and as efforts are renewed to eliminate backward production capacity, the province will have to pay a high price for industrial upgrades, the renovation of technology, the relocation of factories and resettlement of workers
For example, by 2017, Shijiazhuang Iron & Steel Co will move from Shijiazhuang, the capital of Hebei, to Huanghua, a county-level city in the Bohai Bay coastal region. The relocation, plus the technological and equipment upgrades, will cost 30 billion yuan, said Yin Guangping, deputy director of Hebei environmental protection bureau.
Although economic growth has slowed in the province this year, development still remains a top priority. The provincial government has demanded that Shijiazhuang increase its GDP from 450 billion yuan in 2012 to 1,000 billion yuan in 2017. At the same time, the city will also need to control the growth in coal consumption to promote improvements in air quality. In 2012 alone, it burned 61 million tons of coal.
"Under normal conditions, the amount of coal consumed in Shijiazhuang will increase by 4 million tons per year. Even if we were to implement all the energy-saving measures, we will still see an increase of 2 million tons. Restraining this increase in consumption is the most difficult task we face right now," said Jia Dongxu, director of the energy office of Shijiazhuang Reform and Development Commission.
Officials in Hebei are also concerned about ensuring sufficient supplies of natural gas - especially during the winter heating season - once coal-fired power plants have been converted to natural gas.
"While we are making a contribution to the joint regional prevention and control of air pollution, we hope the State Council will support us during the collaborative process. For example, could the central government allocate more natural gas to Hebei province?" said Wang Shaohua, vice-mayor of Shijiazhuang.
Once natural gas replaces coal, the costs of manufacturing and heating will increase significantly. In Shijiazhuang, the price of heating 1 square meter will rise from 22 yuan in 2012 to around 38 yuan, according to estimates from local gas companies. Because the city still lags behind in terms of economic development, Wang called for subsidies and preferential tax policies from the Ministry of Finance.
While the cities and provinces surrounding Beijing have emphasized the challenges they face and the sacrifices they are making to control air pollution, some environmental scientists have noted that they will also benefit from regional collaboration.
"People in Hebei province have the right to economic development, it's just as important as their right to breathe clean air. The province is solving air pollution not just for Beijing, but for itself," said Chai.
During the heavy smog and haze that blanketed large parts of China for weeks in January, many cities in Hebei had much worse air quality than Beijing. Also, cities in the province are always on a list of the top 10 most-polluted cities which is released by the Ministry of Environmental Protection on a monthly basis.
"Rather than saying Beijing needs Hebei's help to maintain good air quality, it's fairer to say that keeping the air clean for the people living in the region, including Tianjin and Hebei province, will require efforts from all sides," said Chai.