Zhang Dejiang (R), chairman of the Standing Committee of China's National People's Congress, meets with Indian Vice President Mohammad Hamid Ansari in New Delhi, India, June 15, 2015. (Xinhua/Li Tao)
NEW DELHI, June 16 (Xinhua) -- Chinese top legislator Zhang Dejiang has called for strengthening cooperation between legislative bodies of China and India.
    Zhang, chairman of the Standing Committee of the National People's Congress (NPC), arrived in New Delhi on Saturday for his four-day official friendly visit at the invitation of Mohammad Hamid Ansari, Vice President of India and Chairman of the Rajya Sabha or Upper House of Indian Parliament, and Sumitra Mahajan, Speaker of the Lok Sabha or Lower House of Indian Parliament.
    This is Chinese top legislator's first visit to India in 14 years.
    Zhang discussed the issue with the two parliament leaders of India respectively, saying one of purposes of his visit is to upgrade the level and improve the quality of the current cooperation between the legislative bodies of the two countries.
    Zhang proposed that the two sides should carry out more close exchanges of legislative bodies at all levels to increase mutual understanding, strengthen experiences of governance exchanges, and seek a better understanding of each other's policies and laws to establish well-being legal environment to promote strategic and pragmatic cooperation between the two countries.
    Leaders of both houses of the Indian parliament expressed wish to have more contacts with China's NPC and exchange experiences in economic and social development, lawmaking and law enforcement.
    During his visit, Zhang also met with Indian President Pranab Mukherjee and Indian Prime Minister Narendra Modi. Zhang conveyed the cordial greeting from Chinese President Xi Jinping during his meeting with the Indian president on Monday.
    During his meeting with the Indian president, Zhang said China and India have thousands of years of friendly exchanges and a history of mutual learning and benefiting from each other's culture.
    Today the two neighbors have become not only the two biggest developing countries, but also the two most dynamic market economies in the world, he pointed out.
    "The two countries should join hands to realize goals for peaceful development, cooperative development and inclusive development, in order to benefit the 2.5 billion people of the two countries," he said.
    Mukherjee asked Zhang to convey his good wishes to President Xi.
    He said India always pays great importance to developing good neighborly relations and friendly with China and is willing to strengthen cooperation and increase exchanges with China in all fields.
    Raising the bilateral relations to new heights will help realize common development and prosperity of both countries, he added.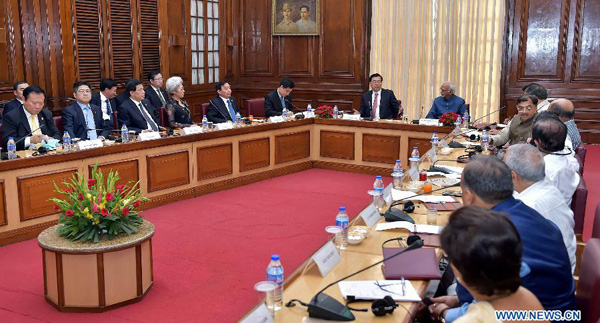 Zhang Dejiang (L Back), chairman of the Standing Committee of China's National People's Congress, holds talks with Indian Vice President Mohammad Hamid Ansari (R Back) in New Delhi, India, June 15, 2015. (Xinhua/Li Tao)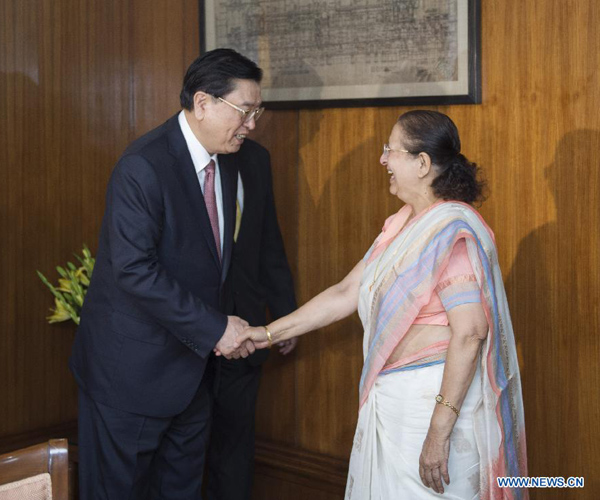 Zhang Dejiang (L), chairman of the Standing Committee of China's National People's Congress, meets with Sumitra Mahajan, speaker of Lok Sabha (House of the People), in New Delhi, India, June 15, 2015. (Xinhua/Xie Huanchi)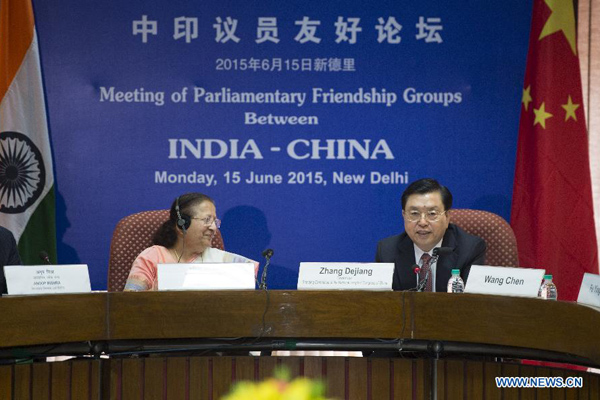 Zhang Dejiang (R), chairman of the Standing Committee of China's National People's Congress, and Sumitra Mahajan, speaker of Lok Sabha (House of the People), attend the closing ceremony of the Meeting of Parliamentary Friendship Groups between China and India in New Delhi, India, June 15, 2015. (Xinhua/Xie Huanchi)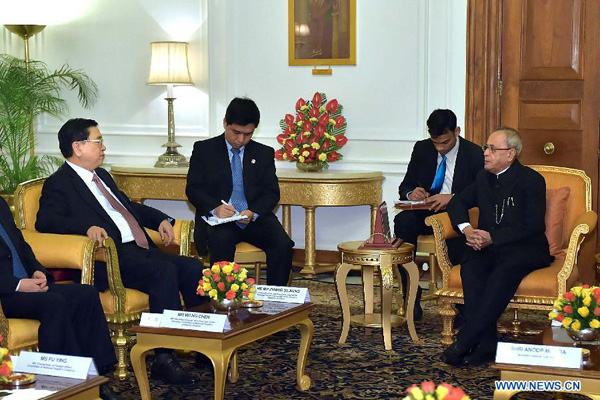 Zhang Dejiang (L), chairman of the Standing Committee of China's National People's Congress, meets with Indian President Pranab Mukherjee (R) in New Delhi, India, June 15, 2015. (Xinhua/Li Tao)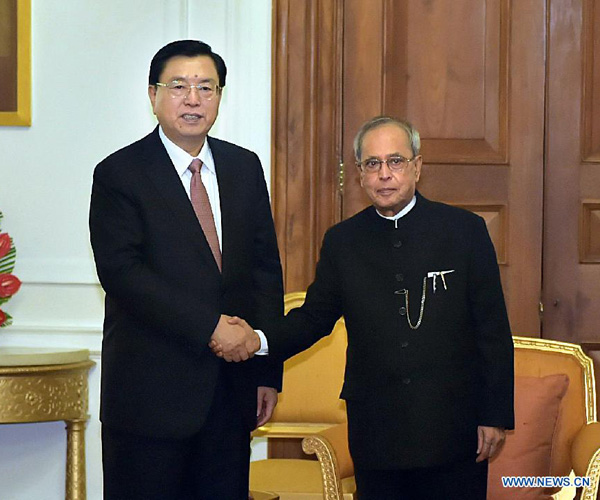 Zhang Dejiang (L), chairman of the Standing Committee of China's National People's Congress, meets with Indian President Pranab Mukherjee in New Delhi, India, June 15, 2015. (Xinhua/Li Tao)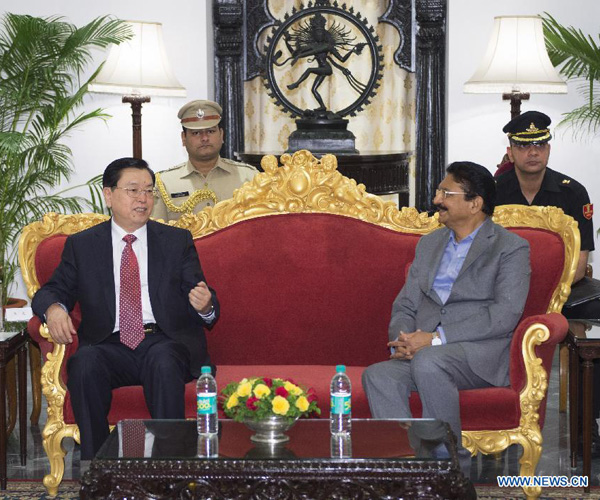 Zhang Dejiang (L), chairman of the Standing Committee of China's National People's Congress, meets with Governor of Maharashtra Chennamaneni Vidyasagar Rao in Mumbai, India, June 15, 2015. (Xinhua/Xie Huanchi)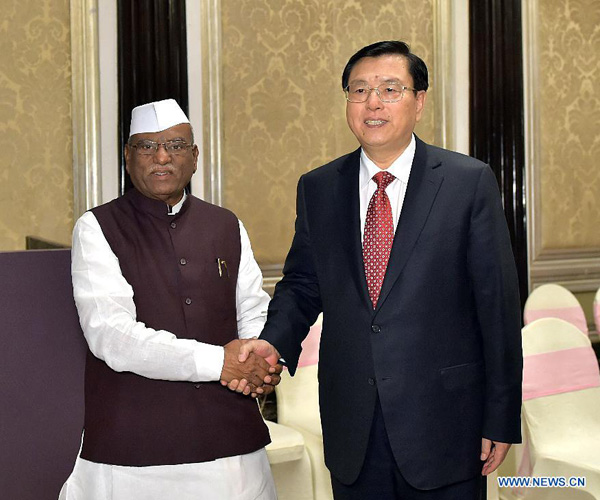 Zhang Dejiang (R), chairman of the Standing Committee of China's National People's Congress, meets with Haribhau Bagde, speaker of Maharashtra, in Mumbai, India, June 14, 2015. (Xinhua/Li Tao)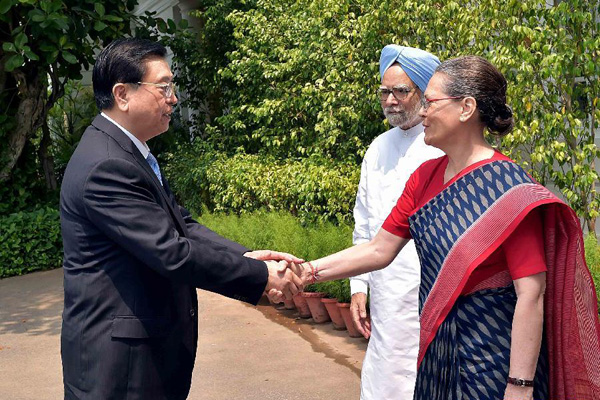 Zhang Dejiang (L), chairman of the Standing Committee of China's National People's Congress, meets with Sonia Gandhi (1st R), president of the Indian National Congress Party, and former Indian Prime Minister Manmohan Singh (2nd R) in New Delhi, India, June 16, 2015. (Xinhua/Li Tao)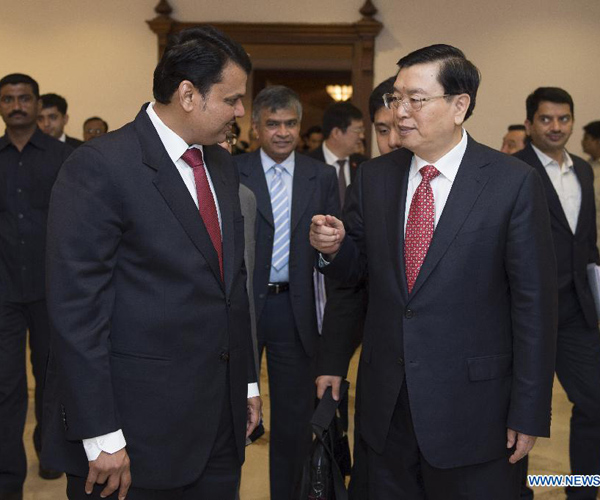 Zhang Dejiang (R), chairman of the Standing Committee of China's National People's Congress, meets with Devendra Fadnavis, chief minister of Maharashtra state, in Mumbai, India, June 14, 2015. (Xinhua/Xie Huanchi)