Tibet is located in the southwest of China. It formally belonged to the domain of the Yuan Dynasty in the mid-thirteenth century. Although China has undertaken changes and replacements of Dynasties and central governments in Chinese history, Tibet has always been under the control by the central government and been an inseparable part of China.
Today is an age of information with jet aircrafts, highways and network of computers as its symbols. Mysterious places are rare to be found in the world, but Tibet is an exception.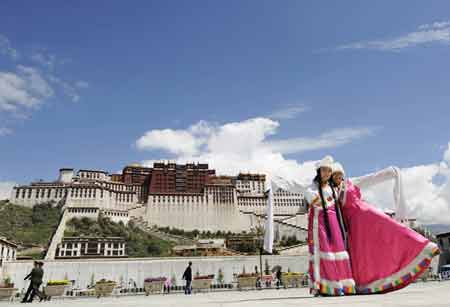 Two girls pose for photos at the square in front of the Potala Palace in Lhasa, capital of southwest China's Tibet Autonomous Region, on Aug. 6, 2008.  (Xinhua Photo)

Because of its geographical position, unique topography and terrain; unknown but existent original customs and natural scenery; and various propagandas brought back by explorers all these render people possible to form a mysterious picture of Tibet.
Located in the southwest Of China, Tibet is bounded by Xingjanq, Qinghai, Sichuan, and Yunan provinces of China. The south and west of Tibet is joined with Burma, lndia, Sikkim, Bhutan Nepal and the Kashmir region. The boundary line reaches 4000 km long. Tibet has 1.2 million square kilometers which is equivalent to the total area of five countries as U.K, France, Germany, Netherlands and Luxembourg.
The average altitude is above 4000 meters high. Tibet is the largest and highest plateau in the word. Therefore it is called the "roof of the world", and shares the name of the "third pole of the Earth". Tibet is surrounded by high mountains with kunlun mountains in the north, Himalayas in the south, Kela Kunlun ranges in the west and the steep Hengduan ranges in the east, The Mount Qomolangma is situated between China and Nepal with 8848 meters high, which is the highest peak in the world.
Due to the different geographical conditions, temperatures of the south grassland and north plateau differ sharply. The south is warm and rainy. The mean annual temperature is 8°Cwith the lowest -16°C, the highest16°C in July. Most rain falls during May to September. The north climate belongs to continental climate. The mean annual temperature is below 0°C.Freeze time covers half year. The highest temperature is under 10??C in July. It is warm from June to August. It is relatively dry area in the north. The weather differs sharply during day and night. The best time for traveling is from March to October.
Tibet has more than 1500 lakes and rivers which cover 30% of the total lake area in China. The Yarlung Zangbo River, which is one of the main rivers in the region, is 2,057 km long. Tibet is one of the largest forest areas in China. High forests are found mainly in the mountains from the east to Yungui plateau. Rdza-yul,Sman-gling,Me-tog and Spl-bocounties have more than 90% surface areas covered by forests, wild animals are indicative of Tibetan antelope, roe- deer, deer,leopard, tiger ,bear,wolf,lynx, reserve and extensive wilderness make Tibet a virgin land for ecological and hunting travel.
Tibet has a long historical culture. Ancient remains show that human beings lived here from 4 thousand to 20 thousand years ago. Tibetans are so diligent and brave that they create vital and diverse cultural customs. This is a nation filled with special traditional culture and a nation keen on dancing and singing.
Tibet is advanced in astronomy, ancient algorithm and medicine. Tibet is abounded of classics and literature works.
Tibet is advanced in astronomy, ancient algorithm and medicine, Tibet is abounded of classics and literature works. Among Tibetan greatest art treasures are painting, architecture, carving, music dancing, folk opera, and famous ancient art sites all around Tibet.
The most well-known sites are the Potala palace, Norbo-lingkha, Sera Temple, Drepung Temple in Lhasa; Zhaxilhunbo Temple, Gzhis-rtse-rdzong in Gzhis-ka-rtse;Rnan-sras-Gling Garden, and Smin-gorl-gling in Granang; Byang-pa-gling Temple, kharub site in Chab-mdo; Mtho-lding-dgon-pa in Rgyal rtse; Mtho-lding Temple, Guge kingdom site in Rtsamdva; khra-vbrug Temple, and Yambulha-khang in Snevu-gdong; the tomb of Tibetan king in Qiogjie ,The tour of these places and the custom of the nationality are the most special in the world.
At the beginning of this century, Mr. Sven Hedin, a Sweden explorer who made the first travel to Tibet from the western world, arrived at Gzhis-ka-rtse with only two horses and one mare which were ever as 130 horses and mares when he first entered Tibet. He said in his" Travel in the Asian Continent" that "every step we'd taken made a new discovery about the earth and each name of the place meant a new occupation. We knew nothing about this part of our planet as we did the back of the moon until Jan., 1907."
Transportation in Tibet has changed a lot through out this century. From the time Mr. Sven Hedin entered Tibet at the first half of the century, there was not even one mile of road or one truck, and the transportation was based on man's labor and stock, Yak conveyance from Lhasa to Yaan was only once a year. After 1950 when slavery was eliminated, four distinct roads from Sichuan, Qinghai, Xingjiang and Yunnan to Tibet were built through great difficulties. And at the same time inside this autonomous zone, road nets formed centered Lhasa, Gzhis-ka-rtse, Chamdo and Nagqu, which extended to 98 percent of the counties. Railway from Qinghai to Tibet was built at this time. Skin raft and wooden boat could pass through the Yarlung Zangbo River, Lhasa River, Nianchu River and Niyang River. In 1956, airmen succeeded in their first aerial navigation above the Qingzang plateau which ever meant the "forbidden area". Now there are regular flights flying to and fro between Lhasa and many cities such as Beijing, Chengdu, Chongqing and Katmandu of Nepal.
Tibet, like many other areas, has changed much after our country's opening reform beginning at the end of 1970s of this century. It attracts tourists coming from all over the world. Mending and exploring tour buses, training guides, managers and servants have made Tibetan tourism prosperous.
Now tourists can enter Tibet in many ways, by bus from Xingjiang, Qinghai, Sichuan or Yunnan; by air from Beijing. Chengdu or Chongqing to Lhasa. Through Dro-mo foreign touring tourists from Bhutan, Sikkim and India can make their tour in Rgyal-rlse, Gzhis-ka-rtse, Ding-rior Lhasa, or through Spu-hrangs tourists from Nepal India can enter Ali area, if they are by air, they can take a direct flight from Katmandu to Lhasa.
In Tibet, not only can the tourists take the buses provided by local tourist department, but can ride a horse, a yak or a donkey and walk as well.