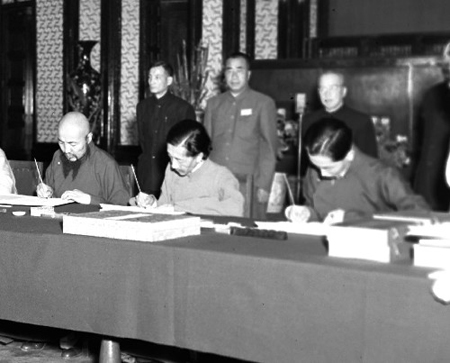 Delegates from Tibetan local government signed on the agreement, May 23, 1951. (Xinhua Photo)
Following this event, the central government once again urged the Tibetan local government to send delegates to Beijing for negotiations. The central government's adherence to the policy of peaceful negotiations greatly supported and inspired the patriotic forces in Tibet. The upper-class patriotics, represented by Ngapoi Ngawang Jigme, stood for peaceful negotiation, winning the endorsement and support of the majority. The 14th Dalai Lama who had assumed power ahead of time accepted the proposal. In his letter to the central people's government in January 1951, he said, "I have come to govern at the warm and earnest request of all Tibetans"; "I have decided to fulfill the people's desire through peaceful means"; and delegates would be sent "to seek a solution to the Tibetan issue with the central people's government." In February 1951, the Dalai Lama appointed Ngapoi Ngawang Jigme as his chief plenipotentiary and Kemai Soinam Wangdui, Tubdain Daindar, Tubdain Legmoin and Sampo Dainzin Toinzhub as delegates and sent them to Beijing to handle with full power the negotiations with the central people's government.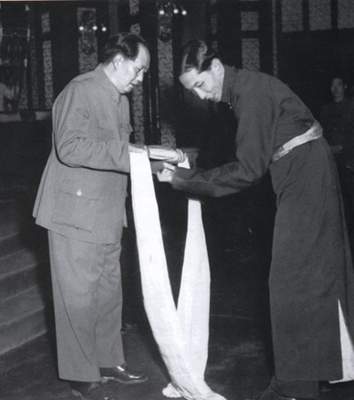 On May 24, 1951, the chief of the delegates of Tibet local government Apeiawangjinmei made offering to Chairman Mao.(Xinhua Photo)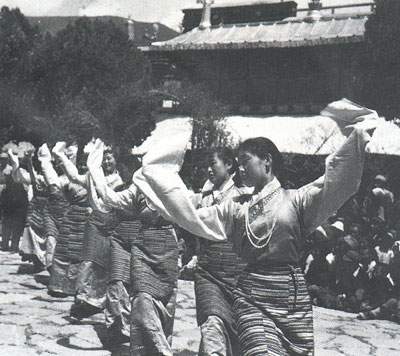 Celebration activities for the establishment of Preparation Committee of the Tibet Autonomous Region were held in Norbu Lingka. (Xinhua Photo)
On April 22, 1956, the Dalai Lama became chairman of the Preparatory Committee for the Tibet Autonomous Region. In his speech at the inaugural meeting, the Dalai Lama said, "In 1951, I sent delegates to Beijing to negotiate with delegates of the central people's government. On the basis of fraternal unity, the Agreement of the Central People's Government and the Local Government of Tibet on Measures for the Peaceful Liberation of Tibet was signed. Since then, the Tibetan people shook off forever the fetters of imperialist enslavement and trammels and rejoined the large national family. Like our sibling races throughout the country, the Tibetan people fully enjoy all rights of national equality, and are embarking on a bright road of freedom and happiness."
Excerpts from Tibet -- Its Ownership And Human Rights Situation published by Information Office of the State Council of The People's Republic of China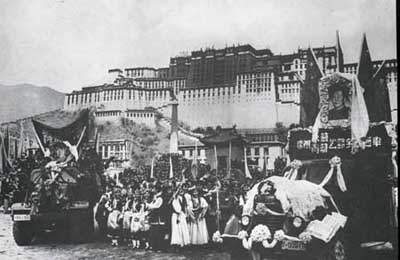 The opening ceremony of the Sichuan-Tibet and Qinghai-Tibet Highways held in Lhasa on December 25, 1954. (Xinhua Photo)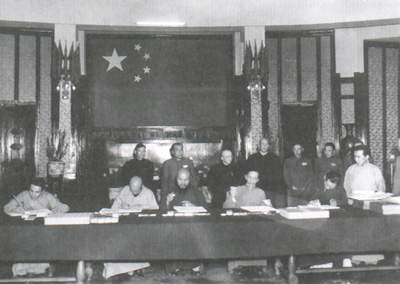 On May 23,1951, Chinese central government and Tibet local government endorsed the agreement to liberate Tibet peacefully. (Xinhua Photo)
Chairman Mao addressed the banquet. (Xinhua Photo)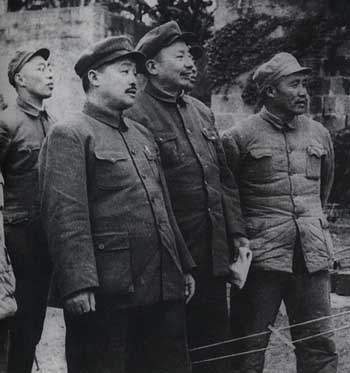 The directors of the Southwest Millitary Area inspected the preparation for marching to Tibet. (Xinhua Photo)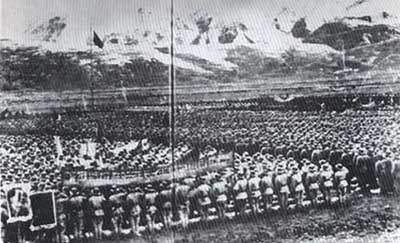 (Xinhua Photo)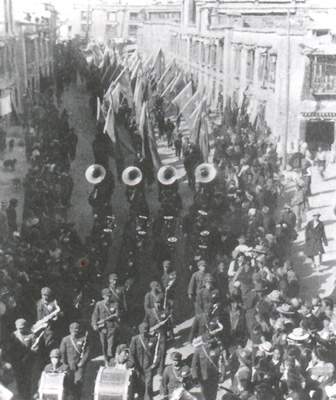 The People's Liberation Armymen enter Lhasa (Xinhua Photo)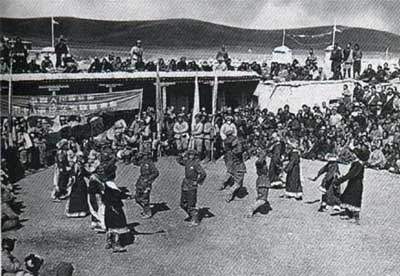 The 18th army of PLA was performing for Tibetan people. (Xinhua Photo)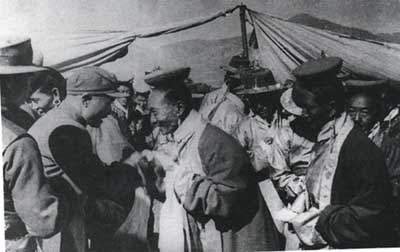 Officials of Tibet local government presented Hada to general Zhang Guohua on October 26, 1951. (Xinhua Photo)