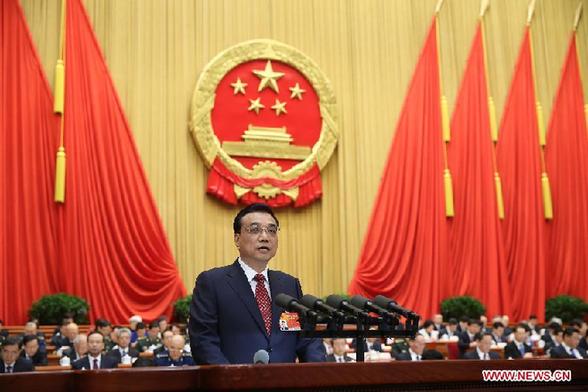 Chinese Premier Li Keqiang delivers the government work report during the opening meeting of the third session of China's 12th National People's Congress (NPC) at the Great Hall of the People in Beijing, capital of China, March 5, 2015. (Xinhua/Pang Xinglei)
BEIJING, March 5 (Xinhua) -- China unveiled its economic growth target for 2015 Thursday, putting an end to months of speculation.
The target, as expected, was lowered to "around 7 percent," a level not seen since 2004 and 0.5 percentage points lower than that of 2014, in a government work report delivered by Premier Li Keqiang to the third session of the 12th National People's Congress (NPC).
The figure, which has never been so anticipated by domestic and foreign observers, is lower than the 7.4 percent growth rate posted for 2014, the economy's weakest annual expansion since 1990.
The target is not only seen as the official barometer of the Chinese economy, but also sheds further light on how China plans to steer its economy. China's gross domestic product (GDP) was over 10 trillion U.S. dollars in 2014, making it second only to the United States.
The Chinese economy, which contributed about 30 percent to the world's total growth in 2013, has been facing notable downward pressures and has entered a stage known as the "new normal."
The "new normal" means slower growth but, more importantly, it will be characterized by sustainable and quality growth for several decades to come, according to Li.
"It is like height -- a man cannot continue to grow forever. When maturing, we will pursue intelligent development," Chinese e-commerce giant Alibaba Group Executive Chairman Jack Ma told Xinhua, commenting on the target.
AROUND 7 PERCENT
The government traditionally announces its annual growth target when the government work report is unveiled to lawmakers.
The target for 2015 "takes into consideration what is needed and what is possible," Li said at the opening of Thursday's annual parliamentary session.
"It is both aligned with our goal of finishing the building a moderately prosperous society in all respects and is appropriate in terms of the need to grow and upgrade our economy," he said.
Li reiterated the Chinese government's key policy tone -- prudent monetary policy and pro-active fiscal policy, with an emphasis on more flexibility.
To shore up growth, Li said the government had decided to raise the fiscal deficit target to 1.62 trillion yuan (263 billion U.S. dollars) in 2015, which was 2.3 percent of GDP, up from the planned 1.35 trillion yuan (2.1 percent of GDP) in 2014.
As a result, planned local government deficit will be increased to 500 billion yuan in 2015, from 400 billion last year, Li said.
Other key macro economic targets for 2015 included 3 percent for the consumer price index (CPI) and 12 percent for growth of broad money supply, or M2.
The premier said China needed to rely on both traditional and new engines to achieve 7 percent growth.
"We need to develop twin engines to drive development -- popular entrepreneurship and innovation -- paired with increased supplies of public goods and services," he said.
To this end, China will invest at least 800 billion yuan in railway construction, and another 800 billion yuan in major water conservation projects in 2015.
QUALITY
"The growth target is lower than last year, but our economy is already the world's second largest in terms of size. As such, we have to turn to healthier growth," said Jack Ma.
China cannot, and should not, get stuck on the high speed growth of the past. We should pursue more quality growth, he said.
The premier promised that the government will work to ensure that the economy performs within an appropriate range, and focuses on strengthening the quality and benefits of economic development.
David Dollar, senior fellow with John L. Thornton China Center under the U.S. think-tank Brookings, told Xinhua that a slowdown was realistic.
Investment had been high in recent years and this has created excess capacity in housing and manufacturing, especially sectors such as steel and cement.
On the face of this excess capacity, investment is naturally slowing and that drags down GDP growth, Dollar said.
Doug Oberhelman, chairman and CEO of U.S.-based construction and mining equipment maker Caterpillar, said China's shift from double-digit growth to a medium-high growth was inevitable; no economy can grow at a double-digit rate forever.
The Chinese economy is expected to go through a slower but more sustainable growth as well as cycles that we have seen in the United States and Europe, Oberhelman told Xinhua in an earlier interview.
The slower growth rate would not mean Caterpillar assets in China would shrink, but rather the company would experience a slower rate of expansion, he said.
EMBRACING NEW NORMAL
The announcement has fed media sensation. Some argue that China's economy is losing steam and growth may plunge to as low as 5 percent, spelling disaster for the Chinese and world economies.
Analysts said the Chinese economy still enjoyed sound fundamentals with no possibility of a hard landing and had room for further growth.
"There is no need to over-interpret the lowering of the growth target," said Li Daokui, head of Tsinghua University's Center for China in the World Economy.
What needs more attention is whether China could further reduce risks related to finance, property and local government debts, he said.
"What remains to be seen is whether the government enables the real economy to enjoy better financing environment," he said.
The job market is not under much pressure, as one percent of GDP growth at the current time has the potential to create nearly 2 million new jobs, Li said.
After decades of staggering growth, China is entering a stage of medium-high growth: the "new normal."
The term gained ground in China in May 2014, when, during an inspection tour of central China's Henan Province, President Xi Jinping described the need to adapt as growth slowed.
In the 35 years between 1978 and 2013, annual growth of the economy averaged close to 10 percent, and between 2003 and 2007 it was over 11.5 percent. However, the "good old days" had to end and growth decelerated to 7.7 percent in 2012 and 2013.
"I do not see this as a problem for China or the world, as long as the slowdown is gradual," Dollar said.
Recent trade data indicates that China is importing less commodities like iron and copper, and that has some negative effect on the economies that depend heavily on exporting these primary products. However, at the same time, China's import appetite has turned to other items, he said.
"China will continue to provide a lot of demand for other economies, but the nature of that demand is changing," he added.
Indeed, the Chinese economy is not teetering on the edge of a cliff, but at a new starting point and ready to embrace new opportunities.