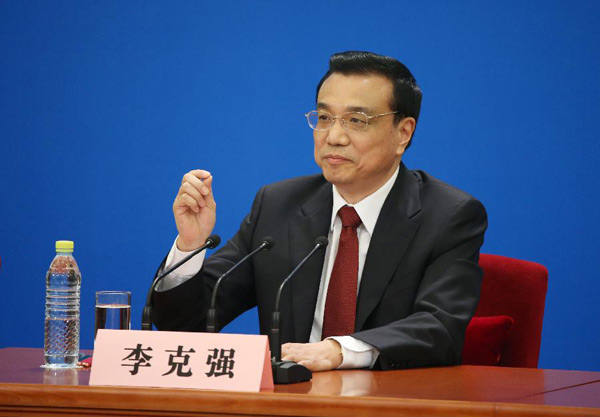 Chinese Premier Li Keqiang speaks at a press conference after the closing meeting of the first session of the 12th National People's Congress (NPC) at the Great Hall of the People in Beijing, capital of China, March 17, 2013. Chinese Premier Li Keqiang and Vice Premiers Zhang Gaoli, Liu Yandong, Wang Yang and Ma Kai met the press and answered questions here on Sunday. (Xinhua/Chen Jianli)
Chinese Premier Li Keqiang has vowed to tackle with mounting problems of environment pollution and food safety with "greater resolution and actions."
"We are going to upgrade China's economic development model, which means the people should be able to enjoy clean air, safe drinking water and food," Li told a press conference on Sunday shortly after the conclusion of this year's parliamentary session.
Li said the government should solve the problems "without mercy and with iron fist".
He also promised the government will deal with environment and food safety issues in more public and transparent ways.
The government will further create new thoughts on development and push forward the scientific development for the goal, said 57-year-old Li as he met the press for the first time as China's premier.
Li was endorsed as the Chinese premier Friday at the first session of the 12th National People's Congress, the country's top legislature.