A draft revision on regulating education for the disabled was finally sent to the State Council for final approval after three years delay.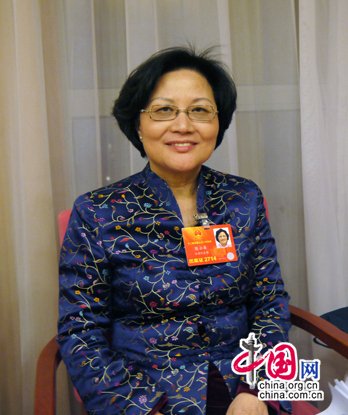 Chen Yunying, a special education expert and senior researcher at the National Institute of Education Sciences
"Many special needs children have grown up in the past three years and can't wait for this new revision to be implemented," said Chen Yunying, a special education expert and senior researcher at the National Institute of Education Sciences.
Regulations on the Education of Persons with Disabilities entered into force in 1994, and Chen and her colleagues began lobbying for reform in 2010.
A deputy to the National People's Congress, Chen called for improvements in disabled people's education during an interview with China.org.cn on March 8.
The 50-statute draft covers education for disabled students at normal and special education schools, and stipulates that students cannot be refused admission due to disabilities.
Lack of funding is a major obstacle for disabled Chinese students. "Special education is costly because students need specialized equipment such as beads and tablet computers," Chen said.
One of the major improvements in the new draft is an increase in funding. "In China's remote poor areas, it's hard to help without money," she said.
The annual subsidy for disabled Chinese students is 700 yuan (US$112.55) in China's western and central regions, and 750 yuan (US$120.59) along the eastern coast. In addition, another 50 million yuan (US$8.04 million) is provided for special education schools to purchase much needed equipment.
With the development of technology, she said it's time for people to abandon the old concept that disabled students can't achieve: "Look at physicist Stephen Hawking. He has contributed a great deal to the study of science."
The new draft also provides direction on how to collect funding with the 42nd statute saying the country encourages donations from citizens, social organizations and companies.
"Society always has poor and rich people, and there is always the desire to help others. Donations will help society appreciate those who are financially well-off," Chen said.
Education should involve all children
Chen said this draft revision is really just a first step in popularizing national education.
This draft revision guarantees education for six kinds of people with sight, listening, speaking, physical, intellectual and mental disorders based on the Law of the People's Republic of China on the Protection of Disabled Persons.
"These six groups have clear symptoms, but other special children outside such groups don't have access to equal education, like children with developmental disabilities including autism, hyperactivity (ADHD), reading disorder and others. If they don't receive treatment, it will also trigger more social issues," Chen said.
Inclusive education, a concept promoted by Chen, is to cover all children in need, including street children and migrant workers' children.
Special education as a social responsibility
After working on special education for nearly 30 years, Chen said offering equal education to special need students is a social responsibility.
"Without good education, it's nearly impossible for disabled people to find a decent job, which may cause severe consequences like juvenile crime," Chen said.
"After all, education investments are important for society," she added.
However, the social attitude of discrimination towards the disabled is still common. "People are scared of seeing the pain and misfortune of disabled people, and are afraid that such hardships can happen to them," Chen said.
"But in China, helping people is our great tradition," she said.