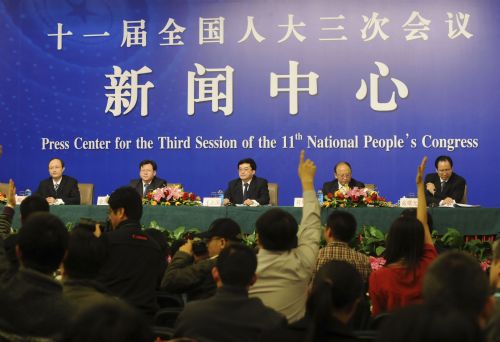 Journalists raise questions during a press conference on high-speed railway construction and development in China held on the sidelines of the Third Session of the 11th NPC in Beijing, China, March 13, 2010. (Xinhua/Jin Liangkuai)
China has no plan to work with Russia on high-speed railway projects in Far East of Russia, Wang Zhiguo, vice minister of railways said here Saturday.
Wang was speaking at a press conference in response to questions concerning Sino-Russian high-speed railway cooperation, on the sidelines of the ongoing annual session of the National People's Congress (NPC), China's top legislature.
China is either not planning to upgrade the 8,000-kilometer railway between Beijing and Moscow into a high-speed one, said He Huawu, chief engineer of the Ministry of Railways at the same occasion.
China and Russia signed a memorandum of understanding on developing fast-speed and high-speed railways in Russia in October last year, which laid foundation for further railway cooperations between the two countries, said Wang.
According to Wang, besides Russia, more countries are seeking cooperation with China on high-speed railway projects, including the United States, Poland, Saudi Arabia and Brazil.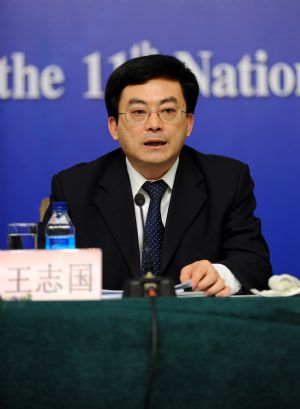 Wang Zhiguo, vice minister of Ministry of Railways (MOR), speaks during a press conference on high-speed railway construction and development in China held on the sidelines of the Third Session of the 11th NPC in Beijing, China, March 13, 2010. (Xinhua/Li Ziheng)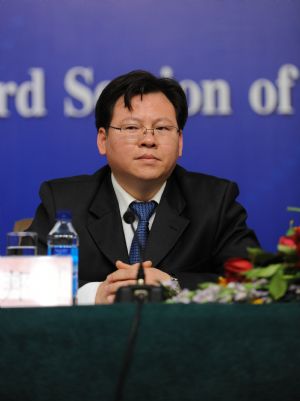 Yu Bangli, Chief Economist of Ministry of Railways (MOR), speaks during a press conference on high-speed railway construction and development in China held on the sidelines of the Third Session of the 11th NPC in Beijing, China, March 13, 2010. (Xinhua/Li Ziheng)