The Ministry of Education has received nearly 15,000 comments on its draft education reform plan, Hao Ping, vice minister of education, told a press conference Friday morning on the sidelines of the National People's Congress.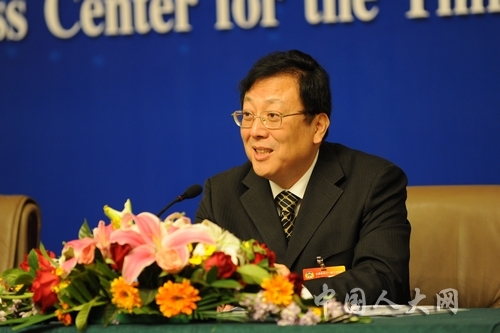 Hao Ping, Vice Minister of Environmental Protection, answers a question on "State guidelines for middle- and long-term educational reform and development plan"during a press conference held on the sidelines of the Third Session of the 11th National People's Congress in Beijing, capital of China, March 12, 2010. (photo by Li Jie)
Hao promised the plan would address major problems of deep concern to the people.
"These problems include education of migrant workers' children, reducing the homework burden, fostering creative students, graduate employment, reform of the college entrance exam, and boosting the percentage of GDP devoted to education," he said.
Hao said promoting educational equality is a cornerstone of the plan.
He said no child would be deprived of education because of poverty. Resources will be invested more rationally with additional funds going to rural, poor and ethnic minority areas.
The ministry has opened a special e-mail account, organized Internet forums, and launched a special column on its website to solicit opinions and suggestions for improving the draft plan. So far 14,815 comments have been received, according to Hao.
The "State guidelines for middle- and long-term educational reform and development plan" charts the course of education development in China from 2010 to 2020.
A working group led by Premier Wen Jiabao has been developing the plan since August 2008.
Premier Wen said last week that the government will give high priority to the development of education. Education spending increased to 198.1 billion yuan (US$29 billion) in 2009, 23.6 percent higher than in 2008.
Spending on education will increase a further 9 percent to 215.99 billion yuan (US$32 billion) in 2010, according to a draft budget report released last Friday.