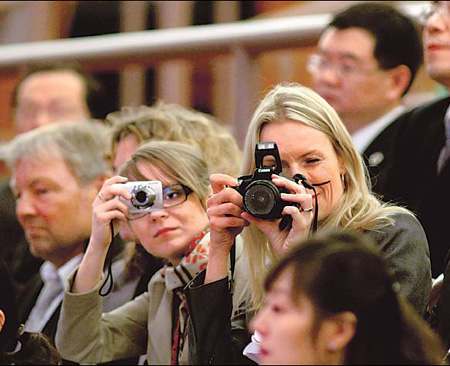 Danish delegation attends the third plenary session of the National People's Congress as observers at the Great Hall of the People in Beijing on Tuesday. (Feng Yongbin / China Daily)
China's on-going session of the National People's Congress (NPC), the top legislature, was open to more than 10 members of the Danish Parliament Education Committee on Tuesday.
The delegation went to the Great Hall of the People to hear a work report given by Wu Bangguo, Chairman of the NPC Standing Committee.
The NPC session was open to a delegation of the European Parliament in 2004.
"I particularly note China puts emphasis on improving the environment and on moving forward to a more innovative and knowledge-based society. These are important areas for cooperation between Denmark and China," said Jeppe Tranholm-Mikkelsen, the Danish Ambassador to China.
For Rasmus Jarlov, who visited the Great Hall the first time, the big size of China's parliament impressed him the most.
"A growing China is more and more important to the world. Everybody wants to know what is going on in China and that's why we are here," he said. "Inviting foreign parliament members to watch what's happening is very helpful for China to promote the relations with the outside world."
It is right that China increases representation of its rural population in the parliament, he said. "I hope it will be successful."
The delegation visited universities and medical colleges in southwest China's Sichuan Province and Beijing after arriving in China on Sunday. They also met officials of Sichuan government and the Education Ministry.
The visit is about enhancing educational cooperation and to identify the areas with the biggest potential for cooperation as this year marks the 60th anniversary of China-Denmark diplomatic ties, the Danish ambassador said.
He said a Sino-Danish center on education and research would be built in Beijing to serve as an engine for knowledge cooperation between the two countries.
Cooperation in nursing, teaching and engineering has started and the student exchanges could be further promoted, said Ms. Anne-Mette Winther Christiansen, First Vice Chairman of the Danish Parliament Education Committee and head of delegation.