Chinese Premier Wen Jiabao met the press Friday after the annual session of the National People's Congress concluded.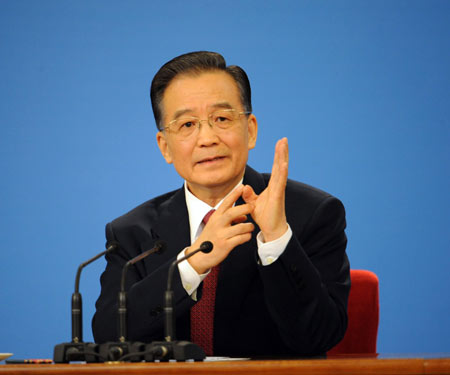 Chinese Premier Wen Jiabao answers questions during a press conference after the closing meeting of the Second Session of the 11th National People's Congress (NPC) at the Great Hall of the People in Beijing, capital of China, March 13, 2009. The annual NPC session closed on Friday. (Xinhua Photo)

Following are highlights of Wen's remarks:
On stimulus package
-- China's stimulus package plan was not fully understood by the world. "Rumors and misunderstanding set the world stock market on a roller coaster ride."
-- The 1.18 trillion yuan from the central government is totally new investment in China's two-year 4-trillion-yuan (585 billion U.S. dollars) stimulus package.
-- China has prepared plans to cope with even bigger difficulties amid the financial crisis and is ready to roll out new stimulus package at any time.
-- Apart from the 4-trillion-yuan package, China will cut tax by 600 billion yuan, raise the old-age pension for retirees, hike the salaries of 12 million teachers, increase farmers' income and provide more subsidies for them, and spend 850 billion yuan on reforming the health care sector within three years.
-- Confidence is still what China needs most to carry out its all-around economic stimulus package. "Confidence can produce courage and strength, only with which can we overcome difficulties."
On foreign reserve, currency
-- "We lent such huge fund to the United States and of course we're concerned about the security of our assets and, to speak truthfully, I am a little bit worried."
-- On the foreign reserves issue, the first consideration is the national interest. But "we also have to consider the stability of the overall international financial system, as the two factors are interlinked."
-- Wen says no country in the world has the right to put pressure on the devaluation or appreciation of the Chinese currency.
On increased contribution to IMF
-- Wen advocates that member countries of the International Monetary Fund (IMF) should shoulder responsibilities jointly in accordance with their quotas.
-- Any country's increase of its contribution to the IMF should be considered in the light of their own situations and be based on the voluntary principle.
On support for Hong Kong, Macao
-- Within this year a supplement agreement to the Closer Economic Partnership Arrangement (CEPA) will be signed, which will further increase the access to the mainland market for the services sector in Hong Kong.
-- Construction of the proposed bridge connecting Hong Kong, Macao, and Zhuhai will start before the end of this year.
-- "The motherland will always provide the strongest support for Hong Kong and Macao."