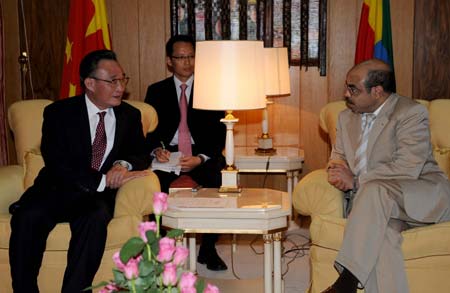 Ethiopian Prime Minister Meles Zenawi(R) talks with Wu Bangguo, chairman of the Standing Committee of China's National People's Congress(NPC), the country's top legislature, during their meeting in Addis Ababa, capital of Ethiopia, Nov. 10, 2008.(Xinhua Photo/Gao Jie)
Ethiopian Prime Minister Meles Zenawi has said that China is a country that honors its promises in cooperation with African countries.
He made the statement during Chinese top legislator Wu Bangguo's just-concluded visit to the African country over the weekend.
The eight commitments the Chinese government made at the 2006 China-Africa Forum of Cooperation Beijing Summit were and are being carried out smoothly, which shows that China is a country that honors its commitments, he said.
African countries are so grateful for this, he added, noting that the Ethiopian government would make efforts to help build and develop the cooperation mechanism mapped out at the summit and try to push the relationship between Africa and China to a higher level.
Wu said: "The Ethiopian government contributed much to the successful holding of the summit and development of the cooperation mechanism. The Chinese government, with strong backing from African countries, has implemented the cooperation scheme as planned and important progress has been made so far."
This progress has helped to boost the development of the new strategic partnership between China and Africa, Wu said.
Ethiopia is the third leg of Wu's five African-nation tour. His three-day visit to the country featured talks with Ethiopian leaders of the parliament, Ethiopian president and leaders of the African Union.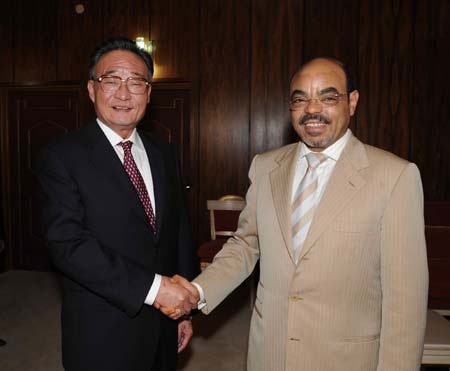 Ethiopian Prime Minister Meles Zenawi (R) shakes hands with Wu Bangguo, chairman of the Standing Committee of China's National People's Congress(NPC), the country's top legislature, during their meeting in Addis Ababa, capital of Ethiopia, Nov. 10, 2008.(Xinhua Photo/Gao Jie)