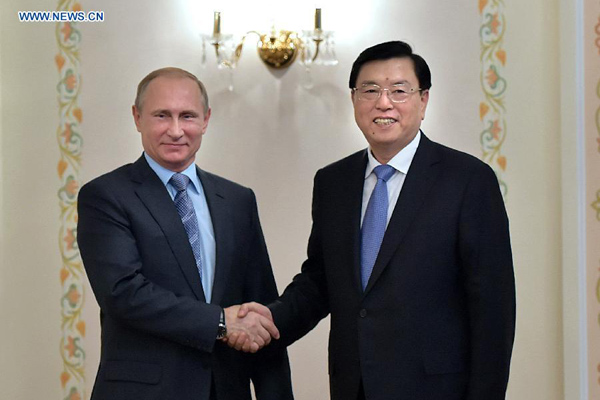 Zhang Dejiang (R), chairman of the Standing Committee of China's National People's Congress, meets with Russian President Vladimir Putin in Moscow, Russia, June 9, 2015. (Xinhua/Li Tao)
     MOSCOW, June 10 (Xinhua) -- Russian President Vladimir Putin met here on Tuesday with visiting top Chinese legislator Zhang Dejiang on promoting all-round cooperation between the two countries and achieving common development.
    Frequent meetings between Chinese President Xi Jinping and Putin since 2013 have featured the highness and distinctiveness of the China-Russia relations, Zhang, chairman of the Standing Committee of the National People's Congress (NPC), said during the meeting.
    The two presidents have promoted cooperation in all fields with a strategic, overall and long-term view and paved the way for developing sustainable, sound and deepening bilateral ties, Zhang said.
    Zhang's visit aims to actively promote implementation of the important consensus achieved by Xi and Putin and lift the legislative cooperation to a new high in a bid to push forward China-Russia all-round cooperation and realize common development and rejuvenation, he said.
    For his part, Putin said that his country pays high attention to the Russia-China comprehensive strategic partnership of coordination, and is willing to maintain close exchanges with China, enhance mutual support of each other and expand pragmatic cooperation in various fields to raise the bilateral ties to a new level.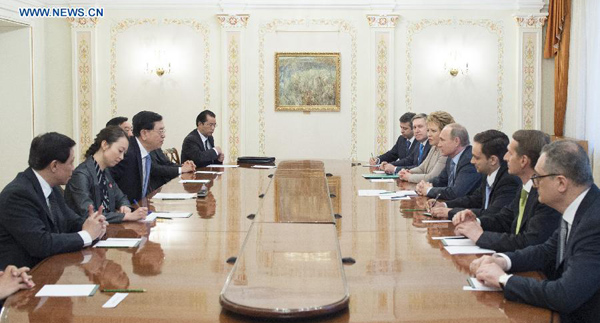 Zhang Dejiang (3rd L), chairman of the Standing Committee of China's National People's Congress, meets with Russian President Vladimir Putin (4th R) in Moscow, Russia, June 9, 2015. (Xinhua/Xie Huanchi)