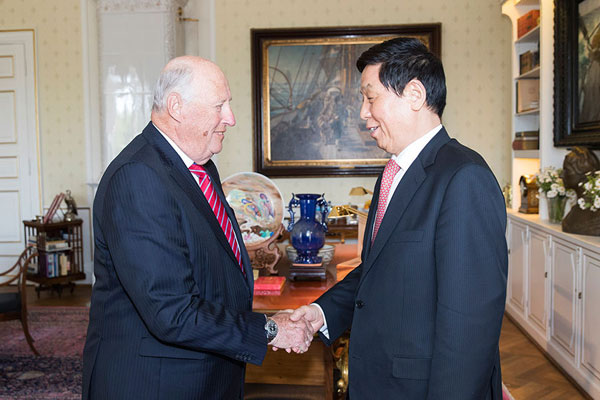 Li Zhanshu, chairman of the Standing Committee of the National People's Congress (NPC), meets with Norwegian King Harald V in Oslo, Norway, May 16, 2019. China's top legislator Li Zhanshu paid an official friendly visit to Norway from May 15 to 18, expecting to promote the development of Sino-Norwegian ties to score more progress. (Xinhua/Huang Jingwen)
OSLO, May 18 (Xinhua) -- China's top legislator Li Zhanshu paid an official friendly visit to Norway from May 15 to 18, expecting to promote the development of Sino-Norwegian ties to score more progress.
During the stay in Norway, Li, chairman of the Standing Committee of the National People's Congress (NPC), met with Norwegian King Harald V, Norwegian Prime Minister Erna Solberg and President of the Norwegian parliament Storting Tone Wilhelmsen Troen.
When meeting with Norwegian King Harald V, Li conveyed the greetings of Chinese President Xi Jinping to the King, and expressed congratulations on the Norwegian National Day, which falls on May 17.
Li said during the King's successful visit to China last year, the two heads of state made strategic plans for the development of bilateral relations in the new era. As this year marks the 65th anniversary of the establishment of diplomatic relations between China and Norway, the two sides are expected to seize the opportunity to cement friendship and expand cooperation on the basis of mutual respect and treating each other equally, so as to realize better development of bilateral relations.
Harald V expressed gratitude to China's friendliness to the Norwegian side, saying Norway admires China's tremendous development achievements. He said Norway is ready to strengthen cooperation with China in such fields as winter sports, and will make efforts to help China successfully host the 2022 Beijing Winter Olympics.
When meeting with Solberg, Li said although Sino-Norwegian relations have experienced ups and downs, friendship and cooperation has always been the main theme of the ties. As both countries share common interests on safeguarding current global mechanism, building an open world economy, the two sides should jointly support multilateralism and free trade. Moreover, the two countries have similar development concepts and share strong economic complementarities, so the outlook of bilateral cooperation is very broad.
Norway is welcome to actively participate in the construction of the Belt and Road Initiative. And bilateral cooperation on economy, trade, environmental protection, science and technology, people-to-people exchanges and tourism is expected to be forged ahead, said China's top legislator.
"China hopes the Norwegian side provides a fair, just and non-discriminatory business environment for Chinese enterprises' investment and operation in Norway," said Li.
Solberg said bilateral cooperation has maintained sound momentum since the normalization of bilateral ties, expecting the two sides to push forward talks on inking a free trade deal and deepen cooperation in such areas as maritime affairs, shipping, fishery and environmental protection. She also voiced the will to advance communication and collaboration with China on issues concerning the United Nations, coping with the climate change and Arctic affairs.
When respectively meeting with Troen and members of the parliament's standing committee on foreign affairs and defense, Li introduced China's development path and political system.
"The reasons why China continues to make new development achievements are that we have embarked on a development path that suits our national conditions. This is the path of socialism with Chinese characteristics," said Li, stressing that the Chinese people will unswervingly follow this path.
He said that the NPC of China is willing to work with the Norwegian parliament to implement the important consensus reached by the leaders of the two countries, strengthen friendly exchanges at all levels, enhance understanding and trust through frank dialogues, and create a favorable environment for pragmatic cooperation.
Troen said that this visit is of great significance as Li's tour marks the first visit of a Chinese leader since the normalization of bilateral relations in 2016. The Norwegian parliament is willing to carry out all-round exchanges and cooperation with the NPC of China, and make positive contributions to the development of state-to-state ties.
The two legislators also exchanged views on jointly safeguarding multilateral trade system, sustainable development and other issues of common concerns.
On May 16, Li attended the economic and trade conference in commemoration of the 65th anniversary of Norway-China diplomatic relations. He said in a speech that President Xi's proposal of the high-quality development of jointly building the Belt and Road and the policy of China's further expansion of opening up have provided new opportunities for the common development of all countries. The two countries' enterprises are expected to seize the opportunity, tap cooperation potentials, so as to translate the desire for strong cooperation into more practical results.
During the tour, Li visited the Chinese skiers who were training in Norway and encouraged them to train hard and carry out bilateral friendship.
He also visited a local ecological agriculture project, an oil gas processing plant, and met with local officials in Norway's southwestern county of Rogaland and its southern city of Stavanger.
Norway is the first lag of Li's ten-day tour in Europe, which will also take him to Austria and Hungary.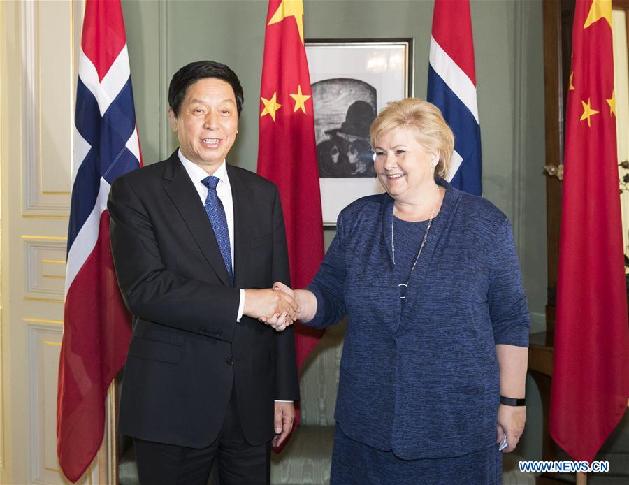 Li Zhanshu(L), chairman of the Standing Committee of the National People's Congress (NPC), meets with Norwegian Prime Minister Erna Solberg in Oslo, Norway, May 16, 2019. China's top legislator Li Zhanshu paid an official friendly visit to Norway from May 15 to 18, expecting to promote the development of Sino-Norwegian ties to score more progress. (Xinhua/Huang Jingwen)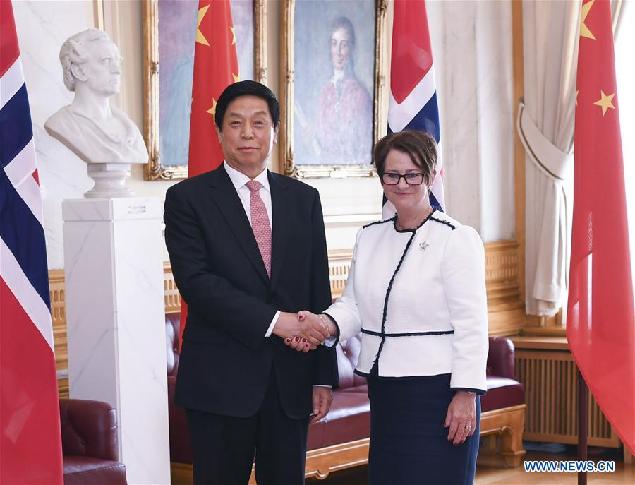 Li Zhanshu, chairman of the Standing Committee of the National People's Congress (NPC), meets with President of the Norwegian parliament Storting Tone Wilhelmsen Troen, in Oslo, Norway, May 15, 2019. China's top legislator Li Zhanshu paid an official friendly visit to Norway from May 15 to 18, expecting to promote the development of Sino-Norwegian ties to score more progress. (Xinhua/Shen Hong)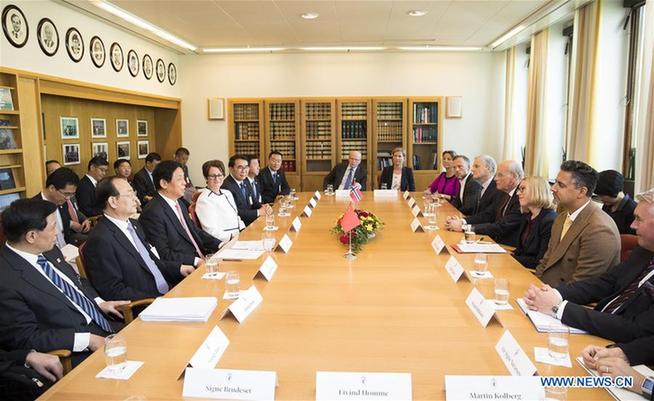 Li Zhanshu, chairman of the Standing Committee of the National People's Congress (NPC), meets with members of Norwegian parliament's standing committee on foreign affairs and defense in Oslo, Norway, May 15, 2019. China's top legislator Li Zhanshu paid an official friendly visit to Norway from May 15 to 18, expecting to promote the development of Sino-Norwegian ties to score more progress. (Xinhua/Huang Jingwen)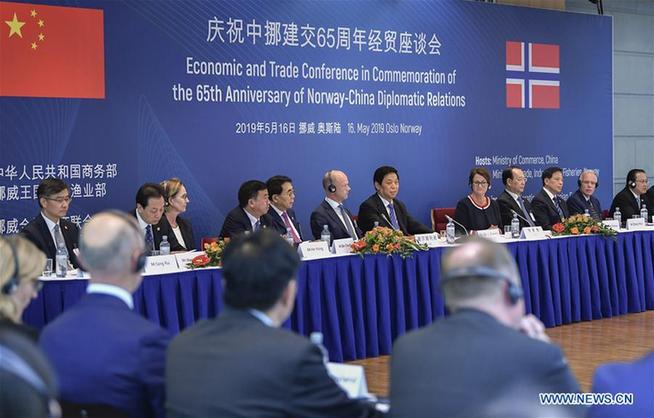 Li Zhanshu (6th R), chairman of the Standing Committee of the National People's Congress (NPC), speaks as he attends the economic and trade conference in commemoration of the 65th anniversary of Norway-China diplomatic relations in Oslo, Norway, May 16, 2019. China's top legislator Li Zhanshu paid an official friendly visit to Norway from May 15 to 18, expecting to promote the development of Sino-Norwegian ties to score more progress. (Xinhua/Shen Hong)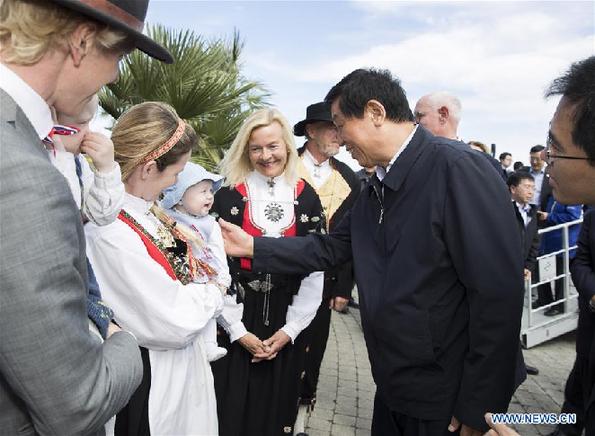 Li Zhanshu, chairman of the Standing Committee of the National People's Congress (NPC), visits a local ecological agriculture project in Stavanger, Norway, May 17, 2019. China's top legislator Li Zhanshu paid an official friendly visit to Norway from May 15 to 18, expecting to promote the development of Sino-Norwegian ties to score more progress. (Xinhua/Huang Jingwen)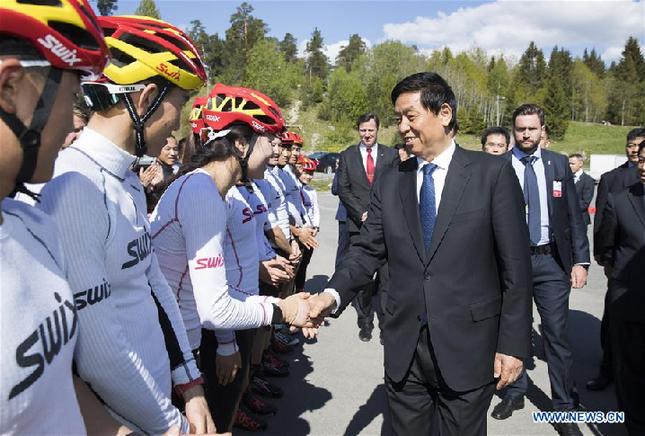 Li Zhanshu, chairman of the Standing Committee of the National People's Congress (NPC), visits the Chinese skiers who are training in Norway, encouraging them to train hard and carry out bilateral friendship in Oslo, Norway, May 16, 2019. China's top legislator Li Zhanshu paid an official friendly visit to Norway from May 15 to 18, expecting to promote the development of Sino-Norwegian ties to score more progress. (Xinhua/Huang Jingwen)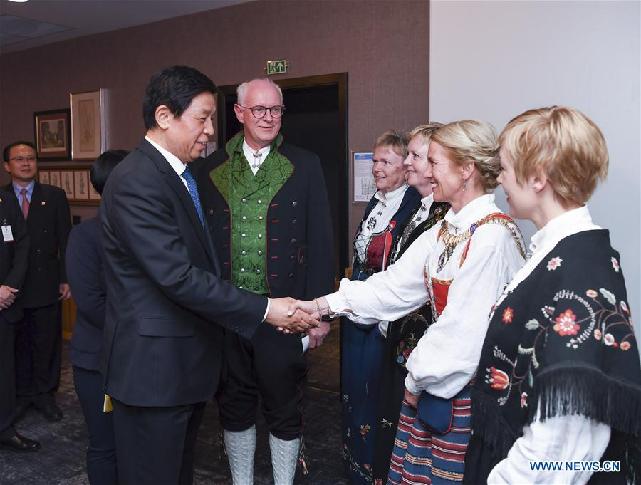 Li Zhanshu, chairman of the Standing Committee of the National People's Congress (NPC), meets with local officials from Norway's southwestern county of Rogaland and its southern city of Stavanger, in Stavanger, Norway, May 17, 2019. China's top legislator Li Zhanshu paid an official friendly visit to Norway from May 15 to 18, expecting to promote the development of Sino-Norwegian ties to score more progress. (Xinhua/Shen Hong)