Almost 50,000 herdsmen have bidden farewell to nomadic life and settled down in brick houses on the Qinghai-Tibet Plateau in China during the past four years in a drive to protect the environment of a well-known nature reserve.
  The ecology of the Nature Reserve of the Three-River Headwaters in Qinghai Province, the source of China's three major waterways: the Yangtze, Yellow and Lancang rivers, has deteriorated during the past three decades because of global warming and frequent human activity.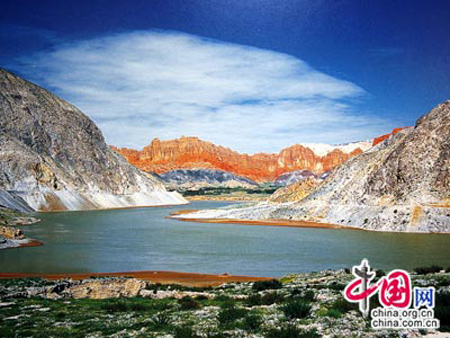 Photo shows the natural landscape in the Sanjiangyuan area, Yushu Tibetan Autonomous Prefecture, Northwest China's Qinghai Province. [China.org.cn]
  Concerns about the ecological safety of the three rivers led to Qinghai starting in 2003 to resettle herdsmen from the reserve, which is known as Sanjiangyuan in Chinese. In 2005, the central government initiated a 7.5 billion yuan (110 million U.S. dollars) ecological reconstruction project in the area and the relocation of herdsmen was stepped up.
  "A total of 49,631 people from 10,579 families has moved out of the reserve during the last few years. There has been an input of more than 300 million yuan and public infrastructures have been constructed for 86 immigrant communities," said Li Xiaonan, deputy director of the Sanjiangyuan ecological preservation and construction office, on Monday.
  To help the herdsmen adapt to their new life, the provincial government has offered vocational training and set up a fund to encourage them to start their own businesses, Li said.
  The per capita annual income of the immigrants reached 2,000 yuan in 2008, double that before the relocation, he said.
  "We have also built new schools and enlarged old schools for their children as well as cutting tuition fees for students at secondary schools," he said.
  Tashi Dondrup, 48, a Tibetan herdsman who left the reserve and settled down in an immigrants' village in Henan county in Qinghai four years ago, has found a new life in stone carving.
  "Five of six in my family have learnt stone-carving skills in a government training program," he said.
  The local government set up a stone sculpture company backed by the collective investment of more than 700 immigrants in the village.
  "I have just accepted an order for 27,000 yuan from the company and hopefully I can earn as much as 40,000 yuan this year," Tashi said.
  In another immigrants' village in Maqen county, former herdsmen have learnt another life skill -- weaving Tibetan-style carpets.
  "I am now accustomed to an eight-hour work day and the new life here," said 47-year-old Tibetan woman Tompo.
  Under the relocation plan to be completed in 2010, 55,700 herdsmen will be moved from the vulnerable river source.
  (Xinhua News Agency August 25, 2009)