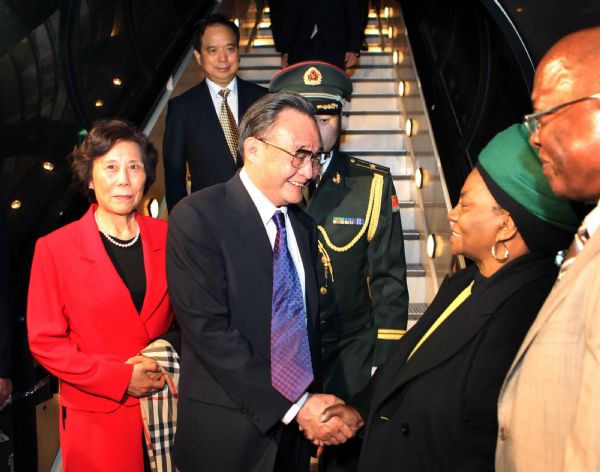 Wu Bangguo, chairman of the Standing Committee of the National People's Congress of China, is greeted by Deputy Speaker of the National Assembly of the Republic of South Africa Nomaindia Mfeketo upon his arrival in Cape Town, South Africa, May 23, 2011. Wu Bangguo arrived here Monday on a visit to South Africa. (Xinhua/Lan Hongguang)
  CAPE TOWN, May 24 (Xinhua) -- China's top legislator Wu Bangguo arrived in Cape Town on Tuesday, starting an official good-will visit to South Africa at the invitation of Speaker of South African National Assembly Max Sisulu.
  In a written statement issued upon his arrival, Wu, chairman of China's National People's Congress (NPC) Standing Committee, China's top legislature, hailed that the China-South Africa relationship had advanced in an all-round way since the two countries established diplomatic ties in 1998.
  The two countries, both on a fast developing trajectory, have developed deeper political trust, achieved fruitful results in the bilateral cooperation and become very important partners on regional and international issues, Wu said.
  In recent years, frequent high-level exchanges have deepened their strategic partnership. Chinese President Hu Jintao and Premier Wen Jiabao and top political advisor Jia Qinglin respectively paid their visits to South Africa in 2007, 2006 and 2011.
  During the last 10 years, the two countries have obtained remarkable achievements in cooperation in economy and trade. In 2009, Bilateral trade volume between the two countries stood at 16. 1 billion U.S. dollars.
  In 2009, the two countries also signed more than 50 cooperation agreements, covering nuclear energy, science and technology, health, culture, tourism and other fields.
  Wu said that China will cement its cooperation with South Africa based on equality, mutual benefit and common development , which will also help boost regional and world peace and development.
  During his stay in Cape Town, Wu will hold talks with Sisulu, and meet South African President Jacob Zuma and Chairman of South African National Council of Provinces Mninwa Mahlangu. Wu will also deliver a key-note speech at South African National Assembly and then travel to Pretoria where he meets Zuma.
  South Africa is the 3rd leg of Wu's Africa-Asia tour which has already taken him to Namibia and Angola.