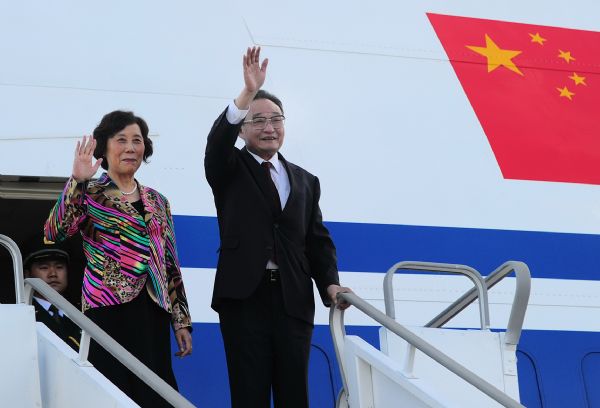 Wu Bangguo (R), chairman of the Standing Committee of the National People's Congress (NPC), China's highest legislative body, and his wife wave to at the airport in Windhoek, Namibia, May 19, 2011. (Xinhua/Zhao Yingquan)
  WINDHOEK, May 19 (Xinhua) -- China's top legislator Wu Bangguo arrives in Namibia on Thursday afternoon with an aim to step up cooperation between the two parliaments.
  Wu, chairman of the National People's Congress (NPC) Standing Committee, the country's top legislature, made the visit as a guest of Speaker of the Namibian National Assembly Theo-Ben Gurirab, who came to the airport and hosted a welcoming ceremony in honor of Wu.
  In a written speech delivered upon his arrival, Wu spoke highly of the relations between China and Namibia over the 21 years since the two established diplomatic relations, noting that the country has become China's good friend and a good partner of "all weathers". The top legislator also highlighted that mutual political trust has been enhanced and fruitful achievements have been scored in a wide range of fields for cooperation, as well as bilateral coordination on regional and international issues which have benefited the two peoples and help promote peace and stability in the world.
  During his forthcoming two-day stay in Namibia, Wu is expected to hold talks with Gurirab, meet with Namibian president Hifikepunye Pohamba and chairman of Namibian National Council Asser Kapere. He is also scheduled to deliver a speech at a China- Africa young leader forum.
  Namibia is the first leg of Wu's four-nation trip to Africa and Asia. He will also visit Angola, South Africa and Maldives.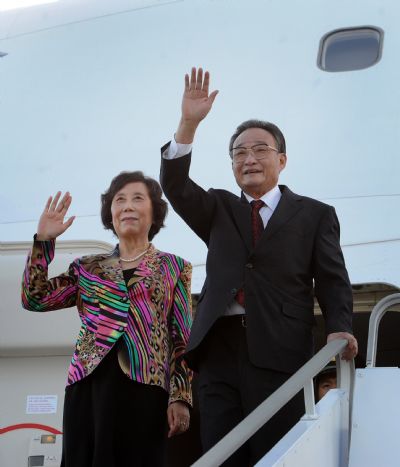 Wu Bangguo (R), chairman of the Standing Committee of the National People's Congress (NPC), China's highest legislative body, and his wife wave to people at the airport in Windhoek, Namibia, May 19, 2011. (Xinhua/Liu Jiansheng)
  Wu Bangguo (1st L, Front), chairman of the Standing Committee of the National People's Congress (NPC), China's highest legislative body, is greeted upon his arrival in Windhoek, Namibia, May 19, 2011. (Xinhua/Lan Hongguang)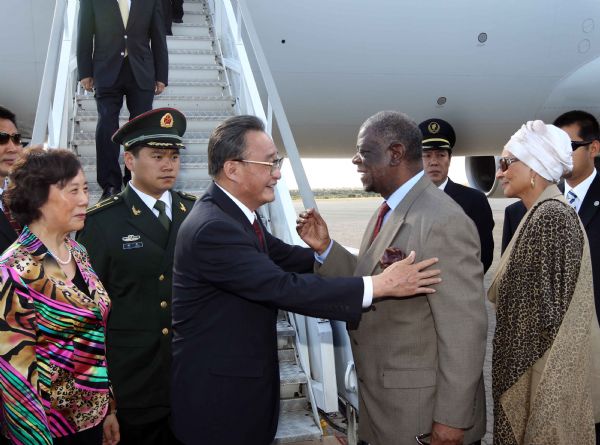 Wu Bangguo (L), chairman of the Standing Committee of the National People's Congress (NPC), China's highest legislative body, is greeted by Speaker of the Namibian National Assembly Theo-Ben Gurirab upon his arrival in Windhoek, Namibia, May 19, 2011. (Xinhua/Liu Jiansheng)