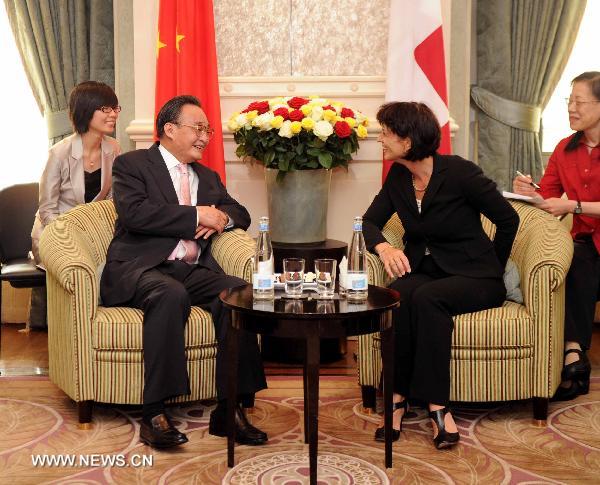 Wu Bangguo (L, Front), chairman of the Standing Committee of China's National People's Congress, the country's top legislature, meets with Doris Leuthard (R, Front), President of the Swiss Confederation, in Zurich, Switzerland, on July 18, 2010. (Xinhua/Zhang Duo)
  ZURICH, Switzerland, July 18 (Xinhua) -- Top Chinese legislat;or Wu Bangguo and Doris Leuthard, president of the Swiss Confederation, held talks on Sunday and agreed to expand their bilateral cooperation.
  Wu, chairman of the Standing Committee of China's National People's Congress (NPC), delivered Chinese President Hu Jintao's regards to Leuthard. He said China will work together with Switzerland to push forward the Sino-Swiss ties.
  The Chinese and Swiss economies are highly complementary and have large potential in economic cooperation, said Wu. China expects to make joint efforts with Switzerland to strengthen cooperation in such areas as financial service, environmental protection, green economy and low-carbon technology while deepening cooperation in traditional fields, he said.
  Leuthard highly commended the progress in Sino-Swiss relations in recent years.
  She said Switzerland, which is one of the earliest western countries to establish diplomatic ties with China, gives great attention to a friendly cooperation with China and is willing to deepen the bilateral ties. Switzerland regards China as an important partner and looks forward to carrying out cooperation in environmental protection, energy-saving and sustainable economic development, she added.
  She reaffirmed the Swiss government's stance on one-China policy.
  During the talks, the two leaders also exchanged views on global issues such as financial crisis and climate changes.
  Wu is here on an official goodwill visit to Switzerland. He is set to leave for Geneva to attend the third World Conference of Speakers of Parliament later on the day.