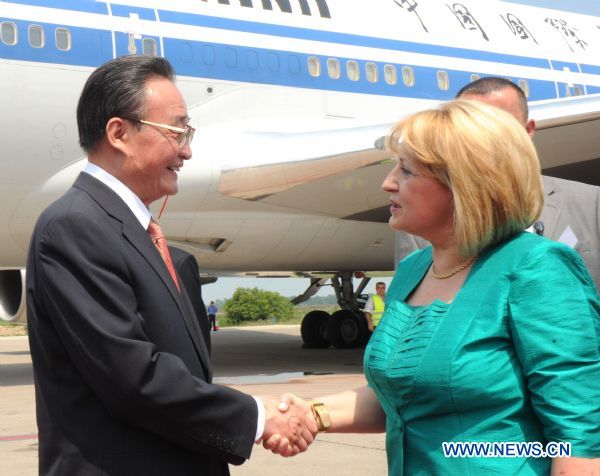 China's top legislator Wu Bangguo (L) shakes hands with Serbian Parliamentary Speaker Slavica Djukic-Dejanovic at an airport in Belgrade, Serbia, on July 14, 2010. (Xinhua/Zhang Duo)
  BELGRADE, July 14 (Xinhua) -- Top Chinese legislator Wu Bangguo who is on a three-nation tour arrived here Wednesday for an official goodwill visit to Serbia.
  Wu, chairman of the Standing Committee of China'a National People's Congress(NPC), said in a written statement upon his arrival that China attaches great importance to the development of Sino-Serbian relations and regards Serbia as a good friend and good partner.
  China is willing to further consolidate its bilateral ties with Serbia in the spirit of mutual respect, equality and win-win policy, Wu said.
  "I am looking forward to exchanging views with Serbian leaders over Sino-Serbian relations and issues of mutual concern during my stay here," he added.
  Wu came here at the invitation of Serbian Parliamentary Speaker Slavica Djukic-Dejanovic. He is the highest-ranking Chinese official to visit Serbia since the two countries established their strategic partnership in 2009.
  During his three-day visit here, Wu is expected to meet with his Serbian counterpart Djukic-Dejanovic, Serbian President Boris Tadic and Prime Minister Mirko Cvetkovic.
  Serbia is the second leg of Wu's three-nation Europe tour after France. He will leave Belgrade for Switzerland on Friday for an official goodwill visit there and to attend the Third World Conference of Speakers of Parliament in Gevena.