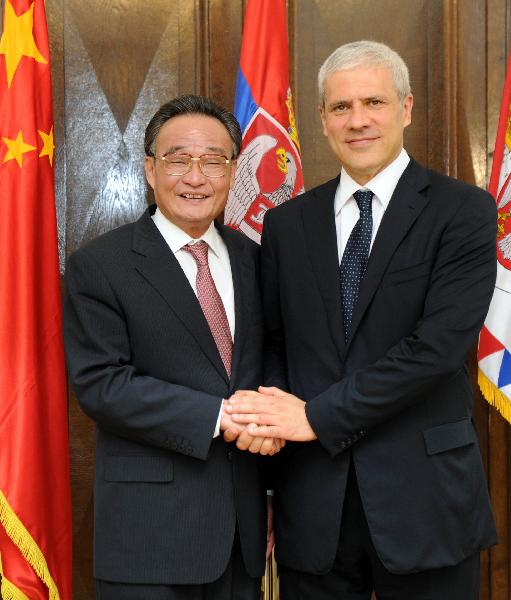 Wu Bangguo (L), chairman of the Standing Committee of China'a National People's Congress(NPC), shakes hands with Serbian President Boris Tadic, in Belgrade, capital of Serbia, July 14, 2010. (Xinhua/Ju Peng)
  BELGRADE, July 14 (Xinhua) -- Top Chinese legislator Wu Bangguo on Wednesday met with Serbian President Boris Tadic, vowing to add new impetus to the traditional friendship between China and Serbia.
  "I am here to help realize the consensus between the two heads of states, pushing forward our strategic partnership and traditional friendship," said Wu, chairman of the Standing Committee of the National People's Congress (NPC), who arrived here on Wednesday afternoon for a three-day visit.
  Wu is the first NPC Standing Committee chairman to visit Serbia over the past decade. China and Serbia have kept long-time friendship, and shared mutual support and respect. Last August President Tadic visited China and reached agreement with Chinese President Hu Jintao on establishing the strategic partnership, which opened a new page for the relationship.
  Wu said Sino-Serbian relations are time-tested and have endured many changes in the international situation. He attributed this to the mutual support between the two countries on issues concerning the core interests of one another.
  "This precious legacy should be cherished by both peoples, and will serve as a fundamental guarantee of the further development of Sino-Serbian ties," Wu said.