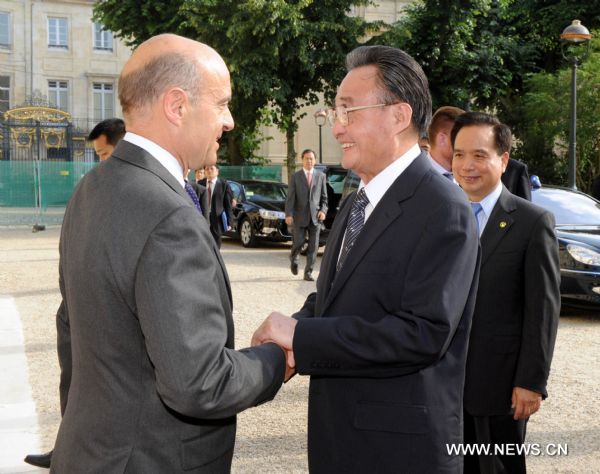 Wu Bangguo (R Front), chairman of the Standing Committee of China's National People's Congress, the country's top legislature, meets with Mayor of Bordeaux Alain Juppe in Bordeaux, France, on July 11, 2010. (Xinhua/Zhang Duo)
  BORDEAUX, France, July 12 (Xinhua) -- China's top legislator Wu Bangguo has promised that China will continue to support further cooperation between Chinese provinces and cities, and French city Bordeaux.
  Wu, chairman of the Standing Committee of the National People's Congress (NPC), made the remarks during a meeting with Mayor of Bordeaux Alain Juppe here on Sunday.
  Wu expressed appreciation for the efforts Juppe made to promote the development of Sino-French relations when he was prime minister and foreign minister in the 1990s and mayor of Bordeaux.
  Bilateral ties have further grown in recent years thanks to joint efforts of both sides, said Wu, who is in France on an official goodwill visit.
  "The purpose of my current visit is to put into practice the consensus reached by the two heads of state and to advance our comprehensive strategic partnership, which involves cooperation between the two sides at the local level," Wu said.
  The exchanges and cooperation between Bordeaux and the central Chinese city of Wuhan have developed rapidly in the fields of economy and trade, culture, education and tourism since they became sister cities, setting an example for others in conducting cooperation at the local level, he said.
  China is implementing a regional development strategy to boost development in the Central Region, which will provide broader space for bilateral cooperation at the local level, he added.
  The Chinese government will continue to support Chinese provinces and cities including Wuhan in strengthening their cooperation with Bordeaux in such areas as aviation and space, new energy and new materials, green economy and low-carbon technology while deepening cooperation in traditional fields, he said.