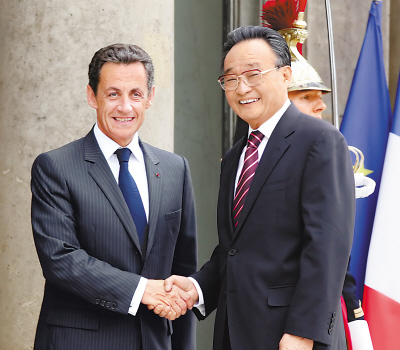 China's top legislator Wu Bangguo meets with French President Nicolas Sarkozy in Paris on July 9,2010. The two leaders agree to deepen strategic cooperative relations, pledge concerted efforts to enhance G20 mechanisms and design to manage the global economy.(Xinhua/Ju Peng)
PARIS, July 9 (Xinhua) --Wu Bangguo, China's top legislator, met with French President Nicolas Sarkozy here Friday and the leaders agreed to deepen the strategic cooperative relationship between their countries.
During their talks at the Elysee Palace, the two also pledged concerted efforts to enhance the G20 mechanism and enable the framework to better steer the global economy.
Since China and France initiated diplomatic ties 46 years ago, their bilateral relationship has played a leading role in relations between Western countries and China because of its pioneering nature and strategic significance, said Wu, chairman of the Standing Committee of the National People's Congress (NPC) of China.
Noting that the international situation is undergoing deep and complex changes and that the world is bracing for more issues with global impact, he stressed that both China and France are heavyweight players on the international stage and share broad common interests in significant affairs concerning the peace and development of the humanity.
China attaches great importance to the Sino-Franco relationship and regards France as an important partner in global affairs, Wu said.
He voiced hope that the two sides continue to maintain and strengthen the pioneer nature and strategic significance of their relationship and maintain a constant drive to develop their comprehensive strategic partnership.
Commenting on the global financial crisis, Wu said that the most difficult period has passed but time was still needed for the world economy to completely walk out of the shadows.
Concerning the global response to the credit crunch and economic downturn, he said that the G20 framework played an important role thanks to its wide representation of the international community.
More notably, Wu said, the establishment and improvement of the G20's summit mechanism reflected a common demand for economic globalization and world multipolarization.
China is ready to work together with France and other G20 members to implement the agreements reached at previous summits, he said.
China also is ready to help better the G20 working mechanism and turn it from a crisis response platform into a global economy management system, thus spurring economic growth in a robust, sustainable and balanced manner, Wu said.
He stressed that the Chinese and French economies are extensively complementary to each other, boast a strong basis for cooperation, and have huge potential for further development.
China hopes that the two sides will consolidate their cooperation in traditional fields such as nuclear power, aviation and transportation, and meanwhile expand cooperation in energy, low-carbon technologies, green economy and other new areas, Wu said.
At the same time, he said, the two sides should also multiply mutual investment, encourage joint research and development, support the enterprises of both countries to jointly explore other markets.
Doing so, Wu said, will advance China-France economic and trade relations toward a new model of economic and trade partnership that is close, long-running and sustainable.
For his part, Sarkozy agreed with Wu's remarks. He said that China is a very important country in the world, and is an important strategic partner of France.
Stressing that France pays great attention to its relations with China, the president said that he has visited China four times since taking office in order to speed up the development of their ties.
Sarkozy added that his country, which is due to take over the rotating G20 presidency next year, is ready to strengthen cooperation with China and jointly improve the G20 mechanism and global economy management.
Earlier in the day, Wu, who is in an eight-day official goodwill visit to France, held talks with French Economy Minister Christine Lagarde.