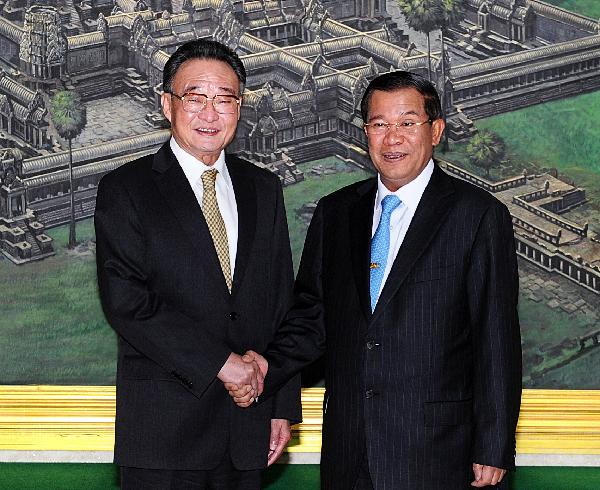 Wu Bangguo (L) shakes hands with Cambodian Prime Minister Hun Sen in Phnom Penh, Cambodia, Nov. 4, 2010. China's top legislator held talks with Hun Sen in Phnom Penh on Thursday. (Xinhua/Li Tao)
PHNOM PENH, Nov. 4 (Xinhua) -- China and Cambodia on Thursday inked 6.4-billion-U.S. dollars deals ranging from infrastructure construction to energy exploration.
A total of 16 deals were signed after the hour-long talks between top Chinese legislator Wu Bangguo and Cambodian Prime Minister Hun Sen late Thursday afternoon.
The package of deals covered such key areas of bilateral cooperation as infrastructure construction, water resources development, telecommunication technology and energy exploration among others.
In earlier talks, Wu, chairman of the Standing Committee of the National People's Congress (NPC), the country's top legislature, reviewed the smooth growth of China-Cambodia ties since the two countries forged diplomatic ties in 1958.
"Particularly in recent years, bilateral relations have developed rapidly," Wu said, highlighting strong trust, sincere cooperation and mutual support.
Wu underlined China's commitment to developing ties with Cambodia, labeling the southeast Asian country as a reliable neighbor, friend and brother.
Hun Sen said China's rapid growth benefited the people and helped lift the regional and world economy out of the downturn.
On the economic front, Wu said growing economic cooperation would add continuous momentum to bilateral relations.
 Wu Bangguo (2nd L, sitting) and Cambodian Prime Minister Hun Sen (2nd R, sitting) attend a signing ceremony of documents on bilateral economic and technical cooperation and government-related cooperation in Phnom Penh, Cambodia, Nov. 4, 2010. (Xinhua/Li Tao)
Wu proposed the two countries deepen agriculture cooperation, encouraging Chinese businesses to expand agricultural products trade with Cambodia and supporting Cambodia to upgrade its inspection and quarantine capability on agricultural products.
The top legislator called for stronger infrastructure construction cooperation, urging Chinese businesses to play a bigger part in Cambodian transportation, electricity and telecommunications construction.
Wu said Chinese financial institutions would like to provide financial support, calling for both sides to explore new ways of finance.
He also pinned hope on stronger investment and industrial cooperation, appealing for faster construction of a special economic zone at Sihanouk Port, which Chinese businesses got involved in building.
Hun Sen agreed with Wu, saying the two countries should work more closely in agriculture, infrastructure, economic zone construction and resources development.
Hun Sen reaffirmed Cambodia's adherence to the one-China policy, saying Cambodia banned any forces from separating China.
Both Wu and Hun Sen agreed that the international situation was undergoing profound changes, saying the two countries should step up cooperation between China and the Association of Southeast Asian Nations (ASEAN) and east Asian cooperation.
Earlier Thursday, Wu also met with Cambodian King Norodom Sihamoni and legislative leaders.
Wu arrived in Phnom Penh on Wednesday afternoon. Cambodia is the first leg of Wu's three-nation visit to Southeast Asia, which will also take him to Indonesia and Thailand.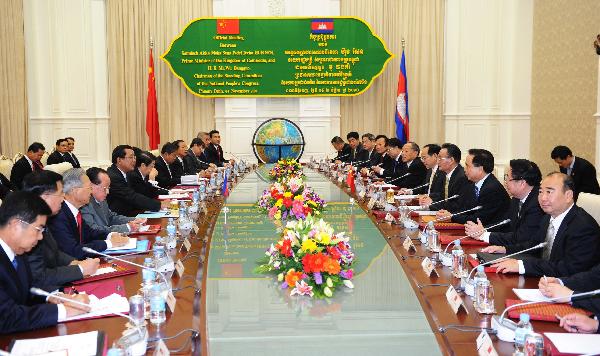 Wu Bangguo (4th R, front) holds talks with Cambodian Prime Minister Hun Sen (5th L, front) in Phnom Penh, Cambodia, Nov. 4, 2010. (Xinhua/Li Tao)