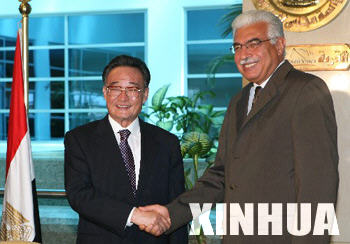 Wu Bangguo (L), chairman of the Standing Committee of China's National People's Congress (NPC), meets with Egyptian Prime Minister Ahmed Mahmoud Mohamed Nazef (R) in Cairo, capital of Egypt, May 22, 2007. Egypt was the first leg of Wu Bangguo's three-nation tour to Africa and Europe, which would also take him to Hungary and Poland.
Chinese top legislator Wu Bangguo called here on Tuesday China and Egypt "reliable friends" and "sincere partners", vowing to boost the bilateral pragmatic cooperation in fields such as tourism, investment and telecommunication.
China and Egypt respect each other and have forged productive economic and trade cooperation, as well as close coordination on international and regional issues, which have enriched the bilateral strategic partnership and brought concrete profits to the two peoples.
Wu, Chairman of the Standing Committee of the National People's Congress of China (NPC), made the remarks in his meeting with Egyptian Prime Minister Ahmed Mahmoud Mohamed Nazef.
Wu said that China will join in hands with Egypt to substantially implement the consensus reached between presidents of the two countries to further cement cooperation in fields of infrastructure, tourism, investment and telecommunication, suggesting the two nations to work closely under the framework of the Forum on Sino-African Cooperation and the Forum on Sino-Arab Cooperation.
Echoing Wu's views, Nazef expressed his appreciation to the achievements made by China in its process of economic and social construction, speaking positively of China's roles on the various international issues.
He also expressed his satisfaction with the current development of the bilateral relations, especially with the two-way trade cooperation, promising to further create favorable conditions for Chinese businessmen to expand their investment in Egypt.
Wu also conveyed greetings from Chinese Premier Wen Jiabao to Nazef.
In his meeting with the Speaker of the Egyptian Advisory Council Safwat Muhammad Yousuf el-Sharif, Wu highlighted that China and Egypt are important developing nations in the world, adding that China highly values its friendly ties with Egypt and during the trip he already felt the aspiration from the Egyptian side to develop strategic partnership with China.
Sharif told Wu that it's already come to the common understanding among various Egyptian political parties to further boost ties with China, and the Egyptian Advisory Council is willing to foster cooperation with the NPC in an effort to make continuous contribution to promote the friendship between Egypt and China.
Wu concluded his visit to Egypt and left Cairo on Tuesday afternoon for Budapest, capital of Hungary, to continue his three-nation tour to Africa and Europe, which will also take him to Poland.