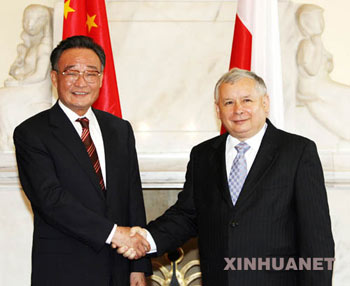 Wu Bangguo (L), chairman of the Standing Committee of China's National People's Congress, meets with Polish Prime Minister Jaroslaw Kaczynski in Warsaw, capital of Poland, May 25, 2007.
China proposed three points here on Friday to boost its economic and trade cooperation with Poland, vowing to tap the huge potential out in the two-way trade relations.
The trade cooperation between China and Poland scored rapid growth in the recent years, however, there is still potential could be further explored, said visiting Chinese top legislator Wu Bangguo in his meeting with Polish Prime Minister Jaroslaw Kaczynski.
Wu, chairman of the Standing Committee of China's National People's Congress (NPC), made a three-point proposal for the two countries to step up economic and trade cooperation, which including optimization of the two-way trade structure, expansion of cooperation fields and promotion of the mutual investment.
China will encourage Chinese companies to import Polish products and hopes Polish businesses will also actively integrate into Chinese market, Wu said, calling for giving a full play to the bilateral joint economic and trade commission between the two countries to coordinate trade cooperation and help increase mutual understanding between the two markets.
Wu also encouraged the Polish business community to seize the opportunity such as 2008 Beijing Olympic Games and 2010 Shanghai World Expo to further the cooperation in fields like infrastructure construction.
Thirdly, Wu said that Chinese government always encourages Chinese companies to invest and develop their business in Poland and jointly explore European market with their Polish business partners.
Investment from Poland will also be very much welcomed, Wu added.
Responding to Wu's proposal, Kaczynski expressed his agreement with Wu's views on how to promote the bilateral trade cooperation, noting that China has already played a very important role in the world market and Poland always regards China as one of the most important cooperation partners.
Poland has its highly opened market which possesses its natural attraction for the foreign investment, Kaczynski said, adding that the Polish side is very interested in the proposal that Wu made to expand the bilateral cooperation in the fields like infrastructure construction, investment and finance.
Poland welcomes Chinese companies to increase their investment in the country and the Polish government will offer convenience and create favorable conditions for them, the Polish prime minister promised.
At the invitation of Polish parliament's lower house speaker Ludwik Dorn, Wu arrived in Warsaw on Thursday noon. It is the first time for a top Chinese legislator to visit Poland.
Poland is the last leg of Wu's three-nation visit, which has already taken him to Egypt and Hungary.