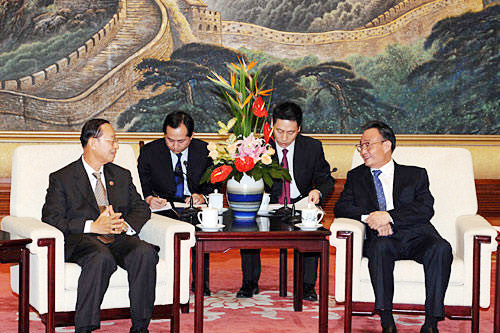 Wu Bangguo(R), chairman of the Standing Committee of the National People's Congress (NPC), meets with Thai Senate president Prasobsook on June20, 2008 in Beijing. (Xinhua)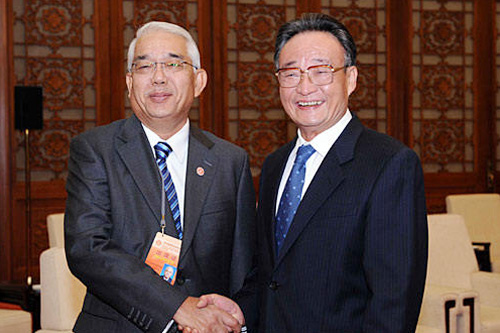 Wu Bangguo(R), chairman of the Standing Committee of the National People's Congress (NPC), meets with Abdul Hamid bin Pawanteh, the Malaysian Senate president on June20, 2008 in Beijing. (Xinhua)
China's top legislator Wu Bangguo met separately with his counterparts from Thailand and Malaysia on Friday, pledging to strengthen parliamentary exchange with the two countries.
Wu, chairman of the Standing Committee of the National People's Congress (NPC), met with Thai Senate president Prasobsook Boondech and Abdul Hamid bin Pawanteh, the Malaysian Senate president. Both were in the capital for the fifth Asia-Europe Parliamentary Partnership Meeting (ASEP).
"The relationship between legislatures is an important part of bilateral relations. The NPC, China's top legislature, will keep high-level exchange of visits with the Thai parliament and strengthen exchanges among various committees and friendly groups," Wu said during his meeting with Prasobsook.
Prasobsook said the Thai parliament sincerely hoped to have more exchanges and cooperation with the NPC, and learn from China's legislation experience in social and economic development, so as to contribute to the Sino-Thai relations.
Pointing to the stable development of bilateral relations in recent years and the fruitful results of bilateral cooperation in various fields, Wu said China highly valued its relations with Thailand and would continue to expand the cooperation and realize common development.
He appreciated Thailand's adherence to the one-China policy.
During his meeting with Hamid, Wu called on the NPC and Malaysian parliament to carry out more cooperation in legislation and law enforcement supervision, so as to enhance the bilateral friendship and deepen bilateral cooperation.
Wu spoke highly of the smooth development of relations between the two countries in recent years, saying China attaches high importance to the relationship with Malaysia and will jointly promote it with the Malaysian side
Hamid, admiring the earthquake relief efforts of China, said he believes his host will score greater achievements in social and economic development. He also wished the Beijing Olympic Games a big success.
The fifth ASEP, which started on Thursday, attracted more than 150 Asian and European lawmakers. It concluded Friday with the issue of a declaration.